BLACK GIRLS BOND is a dynamic daily digital publication for women of color that focuses on Beauty, Health, Wellness, Fashion, Business, and Culture. The online platform is an invaluable space that celebrates, curates, and enhances the way of life for women in a setting that values sisterhood, solidarity, and culture. BLACK GIRLS BOND is a haven where women may rejoice in their magic, embrace their individuality, practice self-care, and stay up to date with the latest styles, fashion trends and advancements in wellness and beauty.
BLACK GIRLS BOND will feature content on a range of topics including:
Hair Care, Skin Care + Spa Treatments
Nutrition & Healthy Lifestyle Tips
Runway Looks, Designers + Models
Product Evaluations +Recommendations
Home Decor + Art
Travel + Food
Tips, Advice + Resources on Business + Finances
Book Reviews + Recommendations
Technology Advancements
BLACK GIRLS BOND will also feature profiles and conversations with game-changing women and include a monthly digital magazine supplement title BOND: MORE BLACK, MORE BEAUTIFUL, which will have an editorial cover, fashion spreads, and in-depth stories. The website will also include a monthly playlist, podcasts, daily horoscopes, and more.
BEVERLY BOND, the company's creator and visionary business leader, has built a number of platforms to promote social change for women and girls of color.. Bond, a champion of women's rights, has campaigned for Black women's visibility and power for more than 15 years as the founder of BLACK GIRLS ROCK!, the movement that kindled the deeply embedded collective consciousness that has increased Black women's visibility and inclusion in media in the present day.
---
Dear Esteemed Readers,
As the editor-in-chief of BLACK GIRLS BOND®️ I am thrilled to welcome you to our burgeoning community, a vibrant digital oasis designed for fashion-forward, wellness conscious, entrepreneurial women in an online space as multifaceted, and dynamic as the Black women it represents.
Each aspect of BLACK GIRLS BOND®️ is a meticulously curated blend of content-spanning style trends, skincare innovations, business insights, self-care strategies, and vital cultural discourse. BLACK GIRLS BOND®️ also features captivating digital covers, fashion spreads, weekly horoscopes, monthly playlists and inspiring profiles of game-changing women.
BLACK GIRLS BOND®️ is a celebration of black glamour, highlighting the creativity and talent of Black industry professionals who shape the face of fashion and beauty, showcasing the artistic brilliance of Black designers, models, makeup artists, stylists, and more. Our focus on radical wellness explores a holistic approach to health, intertwining physical, emotional, and spiritual well-being.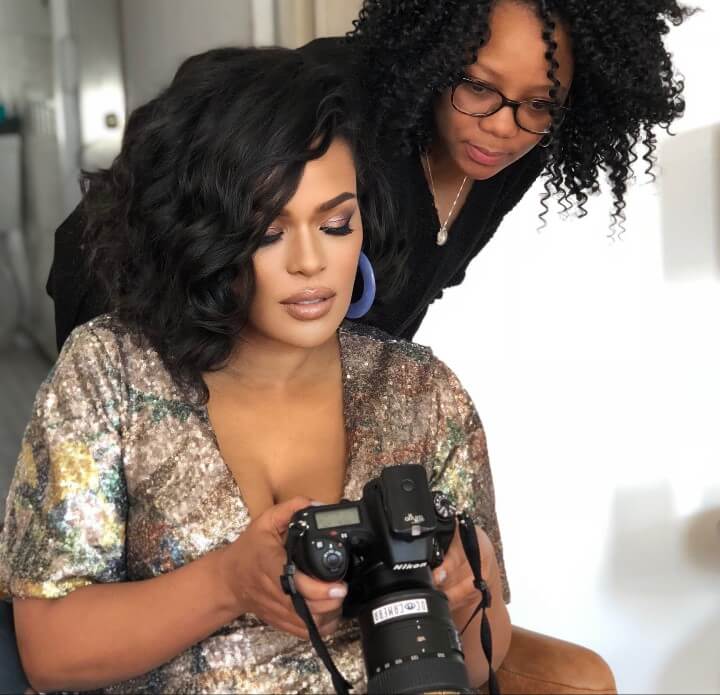 Monthly features on Black Hollywood and the entertainment business is where the 'BOND' perspective truly shines, with coverage and conversations on representation both on-screen and behind the scenes. The recurring 'More Black, More Beautiful' cover issue is a testament to the trailblazing Black women shattering boundaries and making a difference in diverse fields.
We are equally thrilled to introduce the BLACK GIRLS BOND®️ Podcast Network, a platform for dynamic women of color to discuss important topics thoughtfully. Through signature series such as "Bread & Bond" and "Who Rocks Next" we delve into thought-provoking discussions, delivering intellectually stimulating, candid, provocative and entertaining content that resonates with the voices, interests, and perspectives of our audience.
Drawing upon my diverse personal experiences as a television producer, author, fashion model, celebrity DJ, women's empowerment leader, and cultural curator, I have lovingly crafted BLACK GIRLS BOND®️ as a beacon for Black women's creativity, ambition, audaciousness, resilience, wellness, beauty and style.
BLACK GIRLS BOND®️ is historically rooted and authentically grounded in culture as an extension of the iconic BLACK GIRLS ROCK!®️ movement. At the heart of our legacy lies a steadfast commitment to nurturing sisterhood, solidarity, empowerment, elevation, and bonding on a daily basis. As we embark on this journey together, our hope is that our content will inspire and motivate you, fostering a bond that continues to strengthen over time.
So here's to Us! Here's to More Black and More Beautiful!
In Solidarity,
Beverly Bond
CEO | Editor-in-Chief