Are you ready to embark on a journey towards a minimalist and versatile wardrobe? Look no further! This comprehensive guide is specifically designed for beginners who want to build a capsule wardrobe from scratch. With three easy steps, a free printable checklist, and valuable tips and examples, you'll be well on your way to creating a wardrobe that reflects your personal style and simplifies your everyday life. Start today, and in just a few hours, you'll have a carefully curated collection of clothes that will revolutionize the way you dress.
Understanding the Concept of a Capsule Wardrobe
If you're new to the concept of a capsule wardrobe, let's begin by understanding its essence. A capsule wardrobe is a thoughtfully curated collection of clothing items that are carefully selected and easily interchangeable. The goal is to maximize the number of outfits you can create with a minimal number of pieces. By focusing on quality, versatility, and personal style, a capsule wardrobe allows you to simplify your wardrobe and make getting dressed a breeze.
The History of Capsule Wardrobes
The concept gained popularity in 1985, and in recent years, capsule wardrobes have experienced a resurgence, driven by growing concerns about the environmental impact of the fashion industry and a desire for sustainable and responsible fashion practices. People are increasingly realizing the value of a curated wardrobe that reduces waste, promotes conscious consumption, and aligns with their values.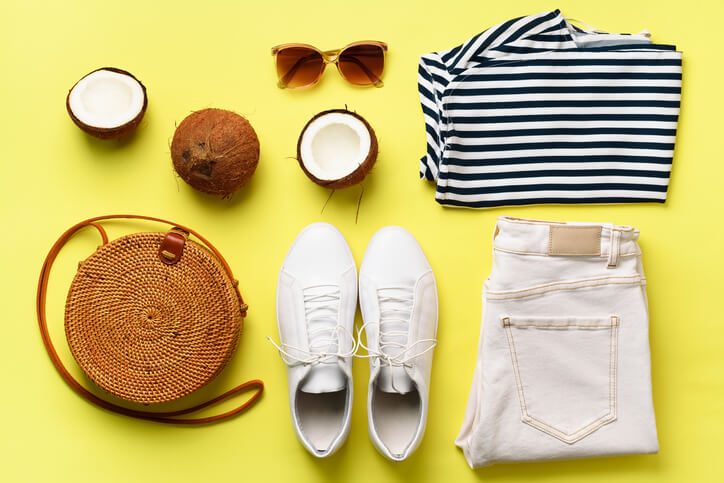 The Benefits of Embracing a Capsule Wardrobe
There are numerous benefits to adopting a capsule wardrobe. Let's explore some of the key advantages:
Streamlined Decision-Making: With a smaller, well-curated wardrobe, you'll experience less decision fatigue. Each item in your capsule will be carefully chosen to align with your personal style, making it easier and quicker to decide what to wear each day. You'll no longer waste time sifting through countless options or feeling overwhelmed by a cluttered closet.
Environmental Sustainability: By embracing a capsule wardrobe, you actively contribute to reducing the environmental impact of the fashion industry. The overconsumption and disposal of clothing contribute to pollution, waste, and resource depletion. A capsule wardrobe encourages mindful purchasing, prioritizing quality over quantity, and reducing the demand for fast fashion.
Financial Savings: Building a capsule wardrobe allows you to invest in high-quality pieces that will stand the test of time. Instead of buying multiple low-quality items that quickly wear out, you can focus on timeless garments that will serve you for years to come. In the long run, this approach can save you money and prevent impulse purchases.
Enhanced Personal Style: A capsule wardrobe encourages you to define and refine your personal style. By carefully curating your collection, you'll develop a clearer understanding of what truly resonates with you and reflects your individuality. This will result in a wardrobe that feels authentic and aligns with your values and aesthetic preferences.
Efficient Closet Organization: With a smaller wardrobe, you'll experience the joy of an organized and clutter-free closet. Each item will have its rightful place, and you'll be able to easily locate and access your clothes. This streamlined organization not only saves time but also brings a sense of calm and clarity to your daily routine.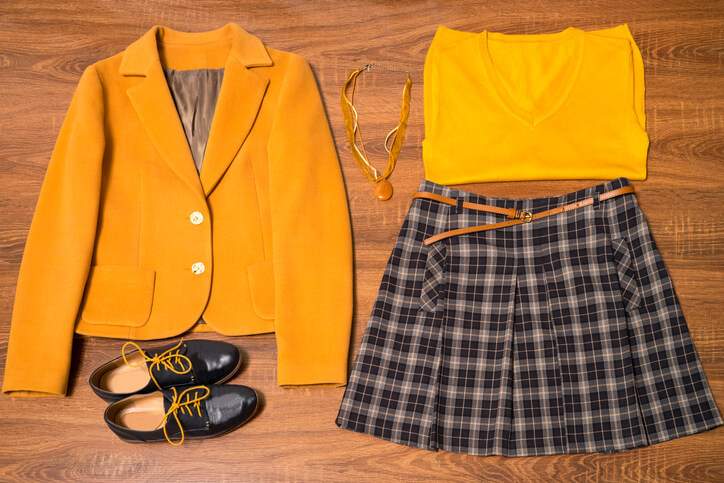 Building Your Capsule Wardrobe in Three Easy Steps
Now that you understand the benefits of a capsule wardrobe, let's dive into the three essential steps to help you build your dream collection:
Step 1: Declutter and Assess Your Current Wardrobe
Before embarking on your capsule wardrobe journey, it's crucial to declutter and assess your current wardrobe. This step allows you to let go of items that no longer serve you and gain a clearer perspective on what you truly need and love.
Start by setting aside dedicated time to go through each item in your closet. Ask yourself the following questions:
Does this item fit me well and flatter my body shape?
Do I feel confident and comfortable when wearing it?
Does it align with my personal style and aesthetic preferences?
Have I worn this item in the past year?
Does it serve a specific purpose or fill a gap in my wardrobe?
Be honest with yourself and create separate piles for items to keep, donate, sell, or recycle. Let go of clothes that no longer fit, don't make you feel good, or have gone unworn for a significant period. Remember, your capsule wardrobe should be a collection of items that bring you joy and make you feel your best.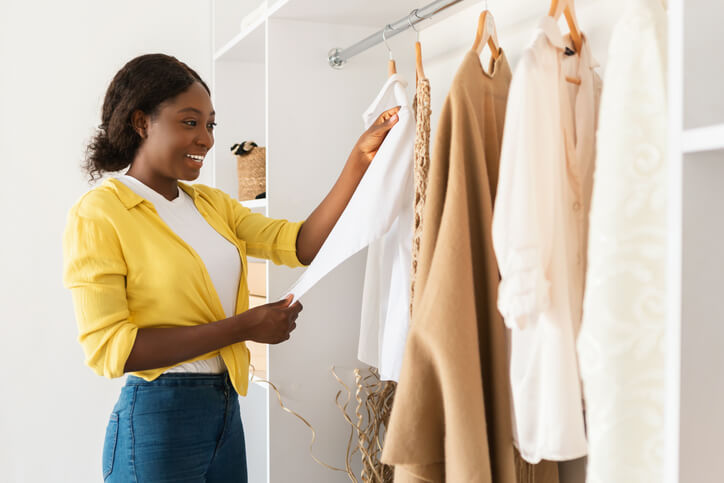 Step 2: Curate Your Core Capsule Pieces
Once you've decluttered your wardrobe, it's time to curate your core capsule pieces. These are the foundation of your collection and should consist of versatile, timeless, and high-quality garments that align with your personal style. Consider the following factors when selecting your core pieces:
Versatility: Look for items that can be easily mixed and matched to create various outfits. Focus on neutral colors, classic silhouettes, and timeless designs that can transition seamlessly across different occasions.
Functionality: Consider your lifestyle and the activities you engage in regularly. Choose clothes that are practical, comfortable, and suitable for your day-to-day needs.
Quality: Invest in well-made garments that will withstand frequent wear and washing. Pay attention to fabric quality, stitching, and overall construction to ensure longevity.
Seasonality: Tailor your capsule to the current season and climate. Select items that are appropriate for the weather conditions you typically experience.
To help you get started, here's a breakdown of essential categories and potential core pieces for each:
Tops and Blouses:

Classic white button-down shirt
Silk or linen blouse
Versatile short-sleeve top
Striped or patterned blouse for added interest

Bottoms:

Tailored black trousers
Dark-wash denim jeans
Neutral-colored skirt (midi or knee-length)
Comfortable and well-fitting shorts for warmer months

Dresses and Jumpsuits:

Little black dress (LBD) or versatile midi dress
Maxi dress for effortless elegance
Jumpsuit for a chic one-piece outfit option

Outerwear:

Classic trench coat
Lightweight blazer or jacket
Versatile cardigan or sweater for layering
All-weather coat suitable for your climate

Shoes and Accessories:

Comfortable everyday flats or loafers
Neutral-colored sneakers or athletic shoes
Timeless heels or ankle boots
Minimalist jewelry and accessories to complement your outfits
Remember, these are just suggestions, and you can tailor your capsule to your personal style, climate, and lifestyle. The key is to select items that can be mixed and matched to create a variety of outfits.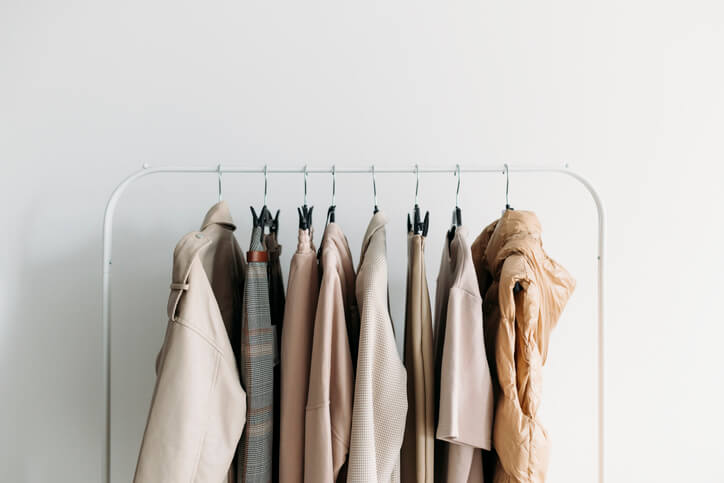 Step 3: Mix and Match: Creating Versatile Outfits
With your core capsule pieces in place, it's time to unlock the full potential of your wardrobe by mixing and matching. Aim to create a variety of versatile outfits using the items you've selected. Here are some tips to guide you through this creative process:
Create Outfit Formulas: Develop a few go-to outfit formulas that suit your style and flatter your body shape. For example, pair a classic white button-down shirt with black trousers for a polished and timeless look. Experiment with different combinations to find what works best for you.
Play with Layers: Layering is a powerful technique in capsule wardrobe styling. It allows you to transform your outfits and adapt to different temperatures and occasions. Experiment with layering shirts under sweaters or cardigans, adding blazers or jackets for a structured look, or wearing dresses as tops with skirts or pants.
Mix Colors and Textures: While a capsule wardrobe often leans towards neutral colors, don't be afraid to add pops of color and interesting textures. Introduce accessories or tops in complementary shades or incorporate patterns to add visual interest to your outfits.
Embrace Accessories: Accessories can elevate your outfits and add a personal touch. Experiment with belts, scarves, hats, and jewelry to accessorize your capsule pieces and create different looks with minimal effort.
Take Note of Outfit Combinations: As you create outfits, take photos or make notes to remember the combinations that work well for you. This will serve as a helpful reference when you're short on time or need outfit inspiration.
Building a capsule wardrobe is an exciting journey towards a simplified and personalized approach to fashion. Enjoy the process, embrace your creativity, and create a wardrobe that truly sparks joy and confidence in your everyday life.
Frequently Asked Questions (FAQs)
Can I adapt a capsule wardrobe to my personal style?
Absolutely! A capsule wardrobe is a highly adaptable concept that can be tailored to reflect your personal style. While there are certain guidelines to ensure versatility and functionality, feel free to infuse your own aesthetic preferences, whether it's bohemian, minimalistic, classic, or edgy. Your capsule wardrobe should be a true reflection of your unique style.
How many clothes should be in a capsule wardrobe?
The number of clothes in a capsule wardrobe can vary based on your needs and lifestyle. While some people aim for a specific number, such as 30 or 40 items, the focus should be on having a well-curated collection that meets your daily needs. Don't get caught up in the numbers; instead, prioritize quality, versatility, and pieces that make you feel confident and comfortable.
Can I include trend-driven items in my capsule wardrobe?
While a capsule wardrobe primarily emphasizes timeless and versatile pieces, it's also possible to incorporate trend-driven items if they align with your personal style and aesthetic. However, be mindful of your long-term enjoyment of such items and consider their versatility beyond a particular trend. Strike a balance between classic staples and trendier pieces to ensure a well-rounded and adaptable wardrobe.
How often should I update my capsule wardrobe?
There is no strict rule for updating a capsule wardrobe, as it largely depends on your personal preferences and lifestyle changes. However, it's a good practice to review your wardrobe seasonally or at least twice a year. During these reviews, assess your current capsule, evaluate its effectiveness, and make adjustments based on any new needs or style preferences that may have arisen.