Hosting a dinner party is an art form that goes beyond a well-arranged cheese platter and an appealing table setting. It's about creating a warm and inviting atmosphere where guests feel a sense of togetherness while savoring delicious food. As we enter the peak dinner party season, let us provide you with an ultimate guide to hosting an unforgettable evening that will leave your guests impressed and eager for more.
Setting Up the Perfect Drink Station
A great way to engage your guests and let them be their own bartenders is by setting up a drink station. A well-styled bar cart can act as a grab-and-go mini bar, offering a variety of options like fruit-forward red wine, a light and flavorful sauvignon blanc, and a signature cocktail for guests to enjoy throughout the night. This not only relieves you from constantly refilling drinks but also adds to the overall aesthetic of your gathering.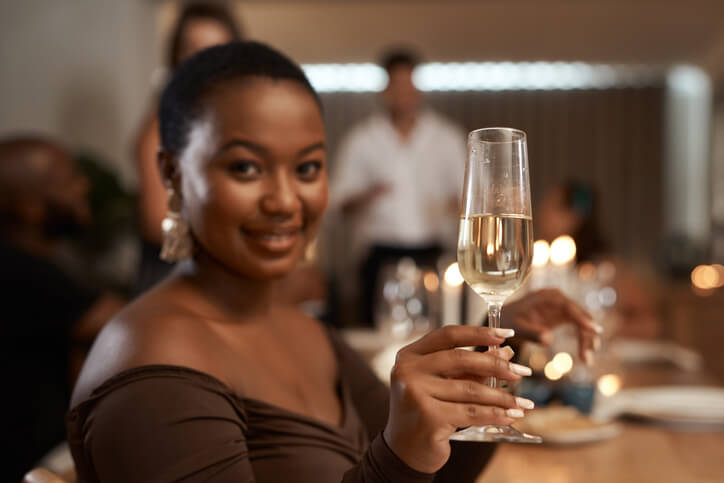 To create an expert beverage station, consider matching the glassware, coasters, and bar cart accessories with the theme of your dining room. Whether it's a vibrant floral arrangement or sleek gold-tone flatware, these details will enhance the visual appeal of your event. For a touch of elegance, opt for the popular coupe glass or the whimsically printed cocktail coupes by MacKenzie-Childs. And don't forget to impress wine enthusiasts with Riedel's tulip-shaped wine glasses designed to enhance the taste of pinot noir.
Adding a signature cocktail to your menu can take your dinner party to the next level. By incorporating seasonal cues, such as fall fruit or holiday-inspired flavors, you can showcase your creativity and attention to detail. Present your signature cocktail in an artful pitcher or a showstopping glass dispenser to make a lasting impression on your guests.
Crafting an Elegant Appetizer Display
Hosting a dinner party, regardless of its size, can be a significant undertaking. To minimize stress, focus on low-lift, crowd-pleasing appetizers that can be made ahead of time. This allows you to clean the kitchen before your guests arrive and dedicate extra time to the presentation of your delectable creations.
A cheese platter is an indispensable centerpiece for any gathering. Choose a board made from reclaimed wood or marble that complements the mood you wish to set. You can either cover the board entirely with finger foods, crackers, and greenery to create a feast-like aesthetic or let a honey-drizzled brie take center stage while allowing the serveware to play a supporting role.
Consider serving one-bite appetizers that guests can enjoy without the need for silverware. Present these delightful morsels on cake stands and tiered serving trays, which are not only reserved for desserts but can also showcase the appetizers in an elegant and visually appealing way.
Mastering the Meal Preparation
Successful dinner parties require careful planning. Create lists and establish a preparation timeline to minimize chaos on the day of the event. Two days prior, take inventory of your ingredients and purchase everything you need for your menu. The day before, clean your home and prepare as much food as possible in advance.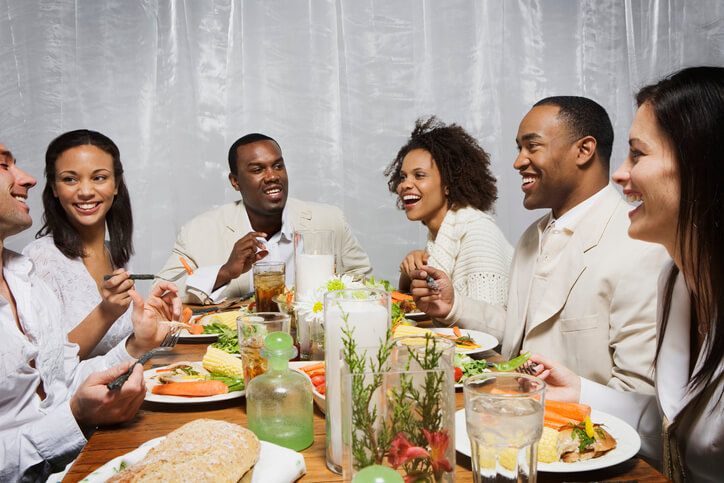 Equip your kitchen with reliable workhorses such as carbon steel skillets and cast-iron pots. Brands like HESTAN, Staub, and SARDEL offer top-quality cookware that delivers mouthwatering results and adds a touch of beauty to your kitchen. Lay out all the ingredients, sauces, and garnishes on a counter with a cutting board and a set of specialty knives, such as those offered by ZWILLING J.A. Henckels, which ensure precision and efficiency in your last-minute preparations. A few hours before the party, arrange all the pre-cooked food on the counter and have the necessary pots ready for final preparation.
Setting the Table and Creating the Perfect Mood
A beautifully set dining table can transform an ordinary meal into a special occasion. Pay attention to the details that will surprise and delight your guests, from mood-setting candles to floral focal points and mixed materials that add depth to the ambiance.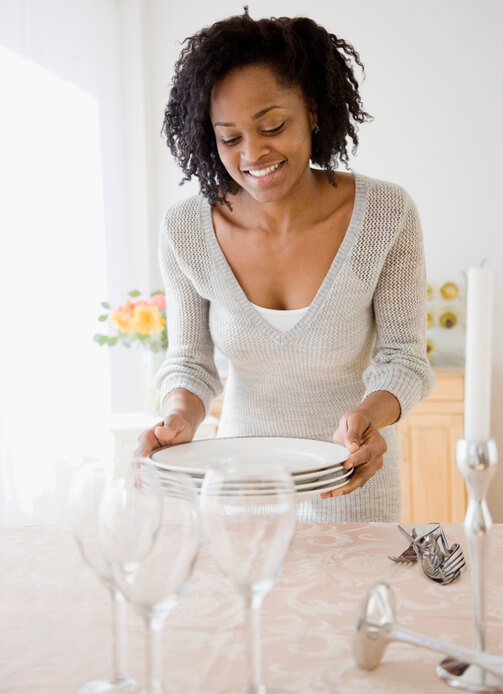 To create a cohesive tablescape, start by selecting a color palette or choosing a standout item that will guide the rest of your design. Playful and colorful iterations of traditional place settings, such as ceramic plates with bold motifs or stemware with sparkling cuts, can inject personality into your table arrangement. Elevate the elegance with cloth napkins, like Sferra's linen napkins with delicate hand thread-drawn hem stitching.
Complete the table decor with seasonal flowers, fragrant eucalyptus sprigs, and edible elements like fresh citrus or pomegranates. Tapered candles add a touch of drama and warmth to the ambiance. Remember that imperfections can bring lasting charm to your table, so embrace the uniqueness of your decor.
Dinner Party Hosting Do's and Don'ts
Now that we have covered the essential elements of hosting a successful dinner party let's explore some do's and don'ts to ensure everything runs smoothly:
Don't attempt a complicated new recipe for the first time.
Make as much as you can in advance to minimize stress.
Read recipes thoroughly, even if you've made them before.
Practice "mise en place" by having all ingredients ready before cooking.
Start cooking earlier than you think to avoid unnecessary delays.
Consider your guests' dietary restrictions when planning the menu.
Don't obsess over dietary restrictions; offer options instead.
Don't apologize for minor imperfections in the food.
Create a playlist to enhance the festive atmosphere.
Keep the music at an appropriate volume to encourage conversation.
Use cloth napkins for an elegant touch.
Accept help if you feel comfortable doing so.
Don't rely on guests for essential items like ice.
Consider seating arrangements for larger parties.
Mix familiar and new guests to create a balanced social dynamic.
Plan your serving and join your guests at the table.
Don't pressure guests into eating or drinking something they decline.
Set the mood with candles and an appealing tablescape.
Provide salt and pepper, even if you think it's unnecessary.
Accept help in clearing the table, but not necessarily for dishes.
Serve dessert to signify the end of the meal.
Create a separate space for coffee and dessert.
Be flexible and go with the flow when unexpected moments arise.
Express gratitude to your guests but skip formal thank-you notes.
Start cleaning up before bed to wake up to a clean kitchen.
Infuse your personal touch into every aspect of your dinner party and you'll be well on your way to becoming a master host or hostess. Remember, the essence of a successful dinner party lies in creating a warm and inviting atmosphere where good food, great company, and joyful moments come together to form lasting memories.