When the sun starts shining and the temperatures rise, it's time to update your wardrobe with the latest swimwear trends. Just like the ebb and flow of the tide, swimwear trends come and go, and this year is no exception. While some of the hottest summer swimsuit styles may remind you of last year's favorites, designers have infused fresh silhouettes, textures, and prints into their collections, giving you plenty of reasons to get excited about swimsuit shopping and plan that much-needed beach vacation.
To help you prepare for the upcoming summer season and all the beach parties and vacations that come with it, we've curated a list of the top swimwear styles to invest in. Whether you prefer a matching bikini set or a sophisticated one-piece, these trend-defining summer swimsuits will ensure you make a splash wherever you go.
Classic High-Waisted Bikinis
High-waisted bikini bottoms have been popular since the '50s, and their appeal has only grown stronger over the years. This style is incredibly versatile and can be easily mixed and matched with different tops. Look for high-waisted bottoms in tropical patterns or with cutout details to add a touch of flair to your beach look. Besides being fashionable, high-waisted bikinis offer more coverage for those who prefer to keep their midriffs modest. Complete your beachside chic ensemble with a pair of hexagonal sunglasses.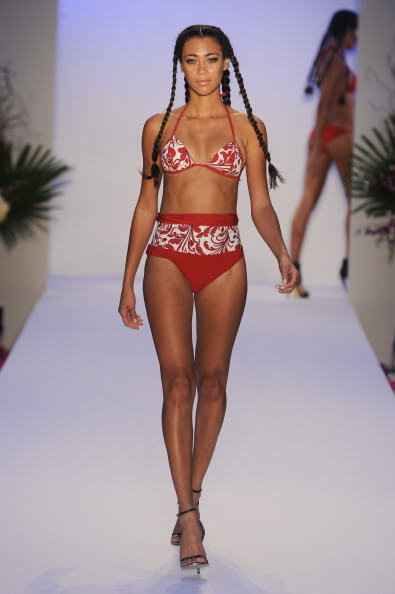 Swimsuit Cover-ups
Don't forget to accessorize your swimsuit with a stylish cover-up. The perfect cover-up should enhance your swimwear, not hide it. Crocheted or embroidered matching sets and button-down shirts are excellent choices for poolside lounging or strolling along the beach. Keep the tops open to showcase your bikini top or one-piece swimsuit and effortlessly transition from the beach to a lunch spot in an air-conditioned restaurant.
Sophisticated One-Shoulder Bikinis
While swimwear trends come and go, one-shoulder silhouettes have cemented their place as a staple style. The one-shoulder bikini top provides a sophisticated and chic alternative to the traditional two-strap style. It offers more support than a strapless option and allows for freedom of movement. Add some interest to this classic style by choosing a one-shoulder swimsuit with sculptural details or layered ruffles on the sleeve.
Stylish Long-Sleeve Swimsuits
Long-sleeve swimsuits are no longer exclusive to California surfer girls or sun-sensitive individuals. This summer, you can enjoy the coverage and style offered by these suits. From brightly colored one-pieces to sheer sleeves over bikini tops, there are numerous ways to rock this trend while staying true to your personal aesthetic.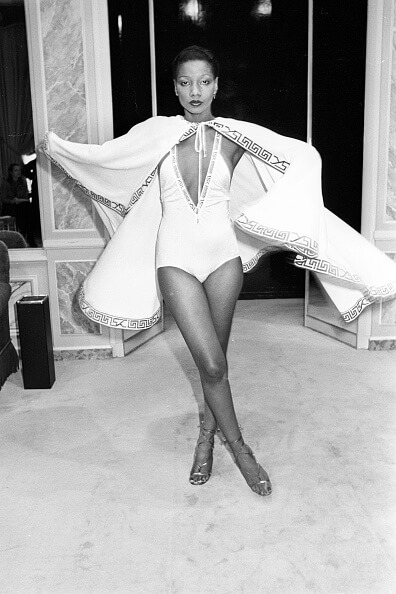 Elegant Bikini & Sarong Sets
For an easy and stylish outfit, opt for a strapless bikini top paired with a matching sarong. Ruching and bright summery colors are on-trend, and this combination offers endless styling possibilities. Simply slide the sarong over your swimwear, and you'll have a fresh new look in minutes. Add a few pieces of jewelry to elevate the traditional beachy feel and transform your ensemble into a post-swim cocktail outfit.
Sporty Athletic Swimwear
You don't have to be a scuba diver to embrace the athletic bikini trend. Sporty suits with asymmetrical straps and color blocking are all the rage this year. These bikinis offer more coverage than other styles and often incorporate playful cutout details. So even if you're not into extreme water sports, you can still enjoy the fashionable look and feel of athletic swimwear.
Minimal Swimsuit – LBOP
No vacation packing list is complete without the swimwear equivalent of the little black dress. The little black one-piece (LBOP) is a reliable and versatile swimsuit that can take you from lounging by the pool to a beachside bar. Its sleek and simple design is far from boring and can even double as a bodysuit in a pinch. Choose a one-shoulder silhouette for a sophisticated yet practical style that suits all water activities.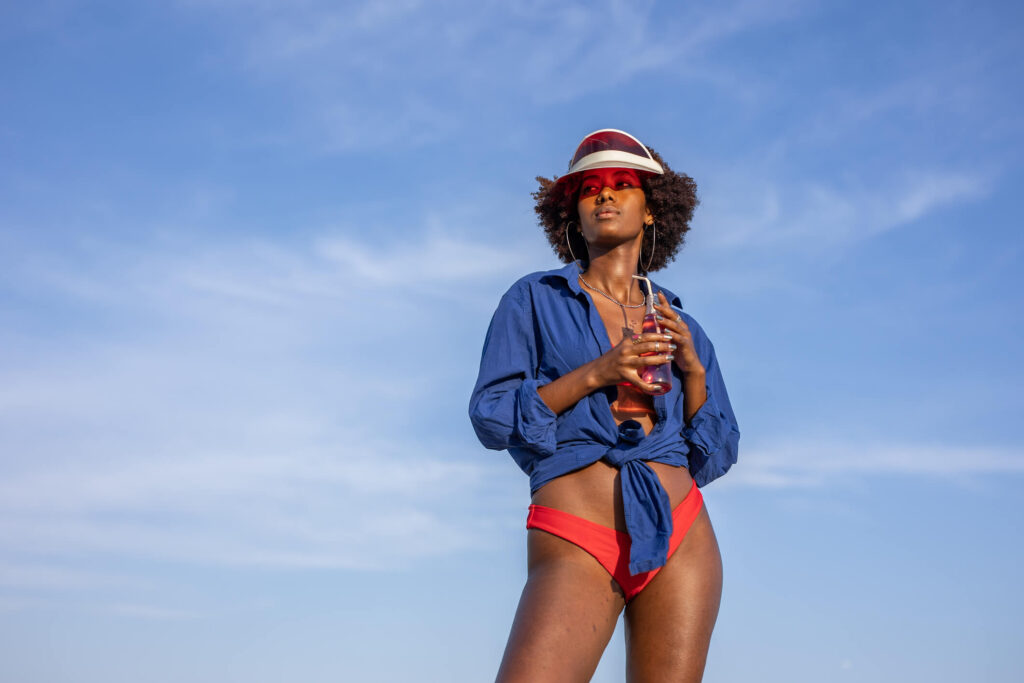 High-Cut Swimsuits
Embrace Your Inner Baywatch Channel your inner '90s vibe with this year's high-cut bikinis that exude big Baywatch energy. These suits feature a fit reminiscent of hiking up a pair of undies over your hips, creating a cheek-forward style. Not only are they fashionable, but they also help minimize tan lines (don't forget your sunscreen!).
Elegant Floral Details
For the ultimate statement piece, look for swimsuits adorned with floral appliques. These delicate petals add a touch of whimsy and create a major fashion moment. Opt for one-pieces with peekaboo cutouts to maximize the versatility of your vacation wardrobe. As the sun sets, throw on a denim mini skirt and strappy sandals, and your summer swimsuit instantly transforms into an outfit for hitting the poolside bar.
Chic Ring Bikinis
Ring bikinis have gained popularity, thanks to their unique circular hardware that replaces traditional strings or clasps. From metal to resin, these bikinis can range from subtle to over-the-top. Take inspiration from provocative fashion icons and add some flair to your swimwear collection with this trendy style.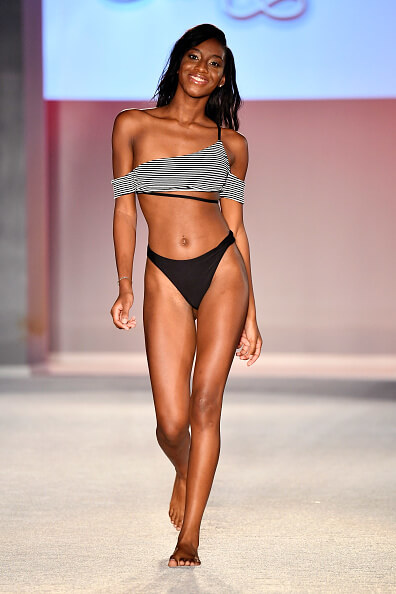 Sophisticated Color-Block Swimsuits
If you prefer a neutral color palette, color-block swimsuits are the perfect choice for you. This year's color-block swimwear offers a more refined visual palette than bold tropical prints. Beige, brown, and tan tones are contrasted with piping, cutouts, and closures, creating a sophisticated and elegant look.
Textured Shimmer Bikinis
Y2K fashion revival has brought about a texture-forward trend—shimmery swimsuits. These eye-catching bikinis allow you to hop on the trend while maintaining your preferred fit. The subtle shimmer adds an extra touch of elegance to your beach look without compromising comfort.
Retro Print Swimsuits
Vintage-inspired silhouettes paired with retro prints create a sense of seaside romance. Look for bikinis adorned with ribbon closures, silky fabrics, ruffles, and bows to channel your inner vintage goddess. If you're a fan of floral patterns, this trend is a must-try for the summer season.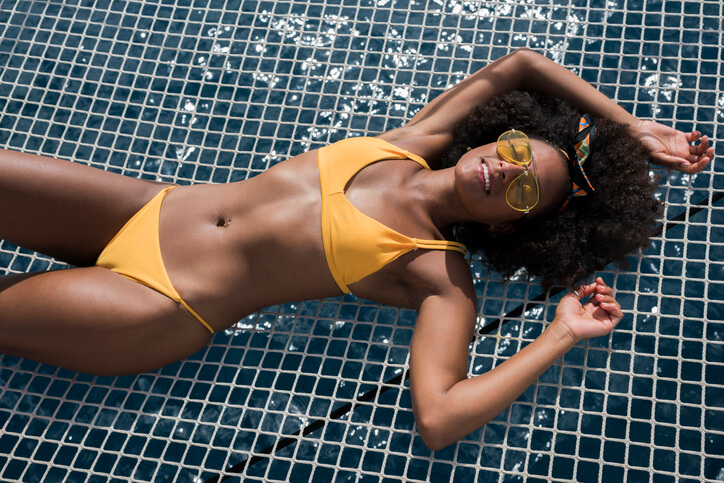 Decadent Lingerie-Inspired Bikinis
The line between lingerie and swimwear has become increasingly blurred, resulting in decadently detailed bikinis. Look for underwire tops that provide excellent support and come in a variety of bra-adjacent styles like balconette, demi, and deep plunge cuts. These bikinis add a touch of luxury to your swimwear collection.
Vintage Off-the-Shoulder Swimsuits
For a touch of glamour, try the off-the-shoulder bikini trend. These tops evoke Old Hollywood starlet vibes and often feature sweetheart, bandeau, or square necklines for a vintage-inspired feel. Embrace this trend for a timeless and elegant beach look.
Mermaidcore Swimwear
Inspired by the mythical allure of mermaids, mermaidcore swimwear incorporates scallop-edge bikini tops, thematic prints, and scale-inspired textures. This trend toes the line between metallic and shimmer, giving you a unique and whimsical swimwear option.
Sequin Swimwear
For the most dazzling and eye-catching swimwear trend of 2023, look no further than sequin-spangled bikinis. While not the most practical for water activities, these bikinis are sure to earn you plenty of compliments and make you stand out wherever you go.
Now that you're armed with the knowledge of the hottest swimwear trends, it's time to stock up on the best swimsuits of the season. Whether you're heading to the beach, lounging by the pool, or posing for that perfect Instagram shot, these styles will ensure you look and feel fabulous. With our curated list, choosing the perfect summer swimsuit has never been easier, leaving you free to focus on marking your beach territory, enjoying refreshing cocktails, and capturing memorable beach photo ops. Happy summer and happy swimsuit shopping!