Teyana Taylor, the talented choreographer, singer, actress, and artist, has achieved a remarkable feat with her first-ever Air Jordan collection. Released on June 1st, the Teyana Taylor x Air Jordan 1 Zoom CMFT 2 A Rose From Harlem sold out within minutes, breaking records and leaving fans eager for more.
The collaboration between Teyana Taylor and the renowned Jordan Brand, as reported by Billboard, represents a significant milestone in her career. The collection captures Taylor's personal journey, symbolizing her resilience as a rose pushing through the concrete. It pays homage to those who have overcome struggles, serving as a powerful inspiration for many.
The collection offers a range of apparel pieces that effortlessly blend street style with sporty aesthetics. With prices ranging from $60 to $175, customers can choose from sizes ranging from XS to XXL. Each piece embodies the early-2000s New York fashion vibe while staying true to the iconic Jordan DNA.
Apart from the highly sought-after sneakers, the collection features additional items such as fleece joggers, a mesh long-sleeve top, tank tops, t-shirts, and a signature varsity jacket. Priced at $750, the varsity jacket showcases Taylor's unique stamp—a striking red rose with two intertwined "T's" beneath it. The iconic Jumpman logo is prominently displayed on the back of the jacket, representing the prestigious Jordan Brand.
The campaign shoot for the collection turned into a heartwarming family affair. Taylor herself, alongside her eldest daughter, mother, and grandmother, took part in the photo session. With a touch of humor, the singer/actress shared that her youngest daughter, Rue, was asleep during the shoot—a delightful anecdote that adds a personal touch to the collection's story.
Before the collection's official release, Teyana Taylor generously gifted several music icons with free pairs of her sneakers. Among the lucky recipients were acclaimed artists such as Missy Elliott, Lil Wayne, DJ Khaled, and Erykah Badu. This act of appreciation and recognition further heightened the anticipation and excitement surrounding the collection.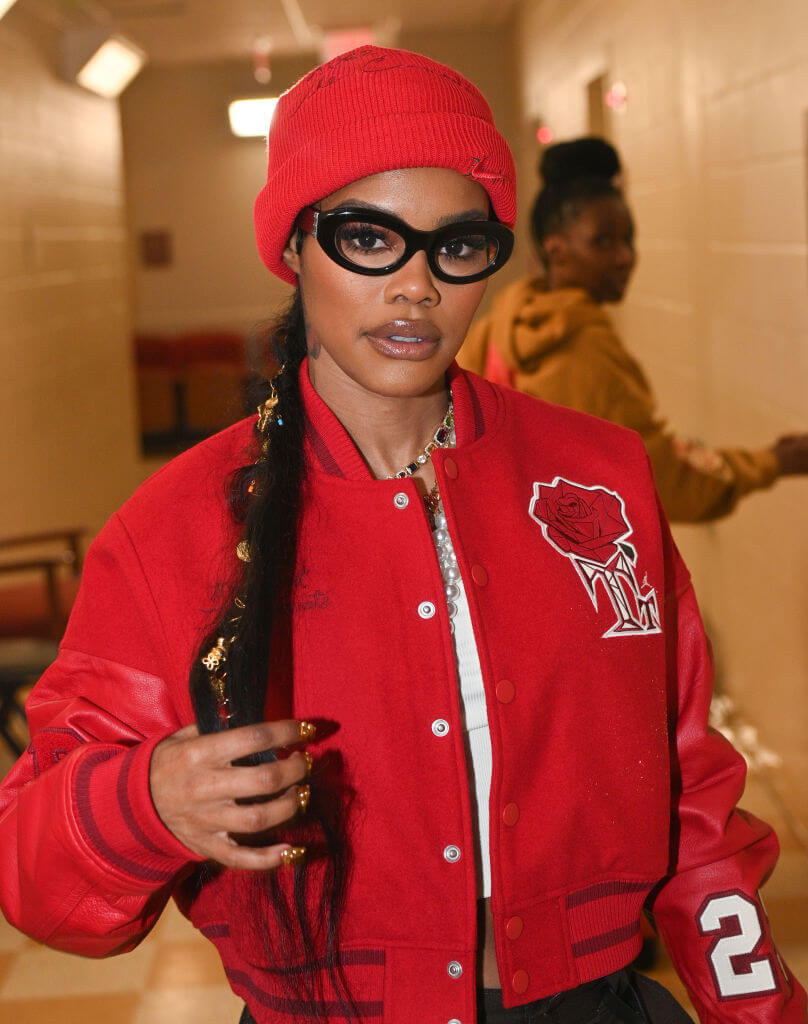 The name of the sneakers, "A Rose in Harlem," pays homage to Taylor's 2018 album, K.T.S.E., and the single of the same name. The song beautifully encapsulates her journey from Harlem to Hollywood, reflecting her growth and evolution as an artist. In 2020, Taylor released her final album, aptly titled "The Album," and surprised her fans by announcing her retirement in September 2021, according to the New York Daily News.
Despite stepping back from music, Taylor has remained active in the entertainment industry. She has made occasional returns to the stage, mesmerizing audiences with her captivating performances. Additionally, Taylor has taken on roles in acting and has served as a choreographer and creative director for notable music acts like Latto, Summer Walker, and Lola Brooke.
Excitingly, Teyana Taylor is set to headline the highly anticipated inaugural Harlem Festival of Culture next month, sharing the stage with the legendary Wyclef Jean. This will be one of Taylor's first concerts since her retirement announcement, making it an event that fans eagerly anticipate.
The release of Teyana Taylor's sold-out Air Jordan collection marks a significant milestone in her career, solidifying her position as a multifaceted artist with a keen eye for fashion and a talent for capturing the essence of New York's street culture. Her collection has resonated with fans, reflecting their admiration for her journey and personal growth.
As Teyana Taylor continues to explore new artistic ventures, her foray into the world of fashion and footwear has undeniably left a lasting impression. The success of her first Air Jordan collection showcases her ability to connect with a diverse audience and further expands her influence beyond music and acting. Taylor's dedication to her craft, combined with her unique vision, promises an exciting future filled with creativity and innovation.
Teyana Taylor's first Air Jordan collection has captivated audiences, selling out within minutes of its release. The collection's combination of street and sporty aesthetics, along with Taylor's personal touch, has resonated with fans worldwide. As she continues to make her mark in various creative fields, Taylor's collaboration with Jordan Brand showcases her artistry and leaves a lasting impact on the culture of basketball for the next generation. With her upcoming headline performance at the Harlem Festival of Culture, Taylor's star continues to rise, and fans eagerly await her next artistic endeavors.