Beyoncé's highly anticipated Renaissance World Tour has taken the music and fashion worlds by storm, as the pop icon returns to the stage with a spectacle that transcends conventional concert experiences. The tour, which commenced in Stockholm, Sweden, marks Beyoncé's first solo headline tour since 2016 and promises to push the boundaries of live entertainment to new heights.
The Renaissance World Tour
The tour, which kicked off in Stockholm, Sweden, was a three-hour spectacle that left fans in awe and further solidified Beyoncé's reign as the greatest pop show on Earth.
The Renaissance World Tour is aptly named after Beyoncé's critically acclaimed album, "Renaissance," a celebration of dance music and an ode to the empowerment found black and queer culture. The album's sound and themes set the stage for a tour that is \visually stunning. Beyoncé's creative vision, paired with the masterful stagecraft of her team, creates a world where artistry and empowerment converge.
One of the defining aspects of the tour is Beyoncé's mesmerizing fashion choices. With a bevy of renowned designers on board, the wardrobe becomes a vital part of the performance itself. Custom-made bodysuits, gowns, and couture creations take center stage, showcasing Beyoncé's penchant for avant-garde fashion. From Loewe's bejeweled bodysuit, adorned with intricate hand motifs, to David Koma's holographic wrap dress, each outfit is a work of art in its own right. Beyoncé's fashion choices not only captivate the audience but also serve as a powerful expression of her identity and artistic vision.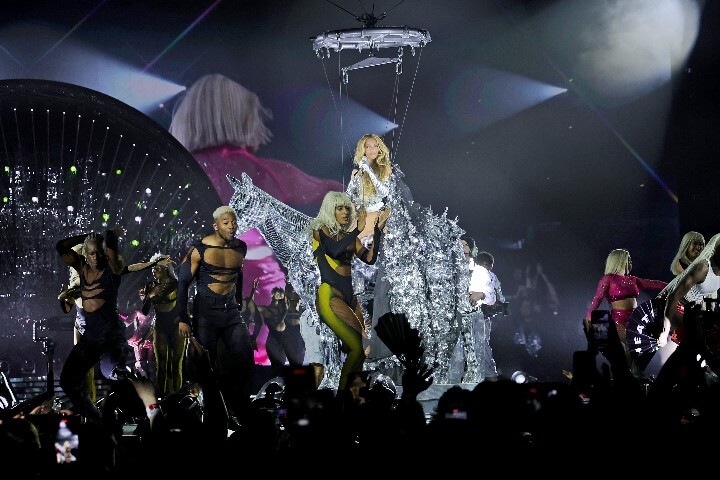 The tour featured an array of club-ready couture creations, each more unique and captivating than the last. Beyoncé, known for her show-stopping outfit changes, did not disappoint as she showcased a series of custom-made outfits. One standout piece was a bejeweled bodysuit by Loewe, adorned with gold crystal appliqué and strategically placed hand motifs. The hands, each decorated with long red nails, added a touch of sensuality and artistic flair to the ensemble. Twitter users were quick to praise the design, with one stating, "That Loewe bodysuit Beyoncé is wearing will be in history books."
Collaborating with stylist Shiona Turini, Loewe also created a second bodysuit for the tour, covered in silver Swarovski crystals and paired with matching cargo trousers. These sculptural and visually striking outfits played on trompe l'oeil and illusion, perfectly capturing the escapist joy found in Beyoncé's latest album.
The wardrobe for the show was a veritable who's-who of high fashion, with designs from Coperni, David Koma, Anrealage, and Mugler making appearances. The stage came alive with a spray-on dress by Coperni and a UV light-transforming gown by Anrealage, creating a technicolor experience for the audience. Beyoncé continued her tradition of incorporating bee-inspired outfits, donning a yellow and black Mugler number with an antennae headpiece.
Beyond the fashion, the Renaissance World Tour was a testament to Beyoncé's dedication to pushing the boundaries of live entertainment. The stage design featured a massive high-definition video screen, immersing the audience in a visual feast of retrofuturism and disco fantasia. From dancing with mechanical arms to performing on a silver horse hoisted above the crowd, Beyoncé orchestrated a sensory overload of stunning ambition and stamina.
The tour's setlist included a mix of Beyoncé's iconic hits spanning her illustrious career, as well as tracks from her acclaimed "Renaissance" album. The songs resonated with themes of Black pride, body positivity, and a celebration of dance music and queer culture. Beyoncé's performance, although less physically demanding than previous tours, still captured the essence of her artistry, eliciting both raw emotion and unadulterated joy from the crowd.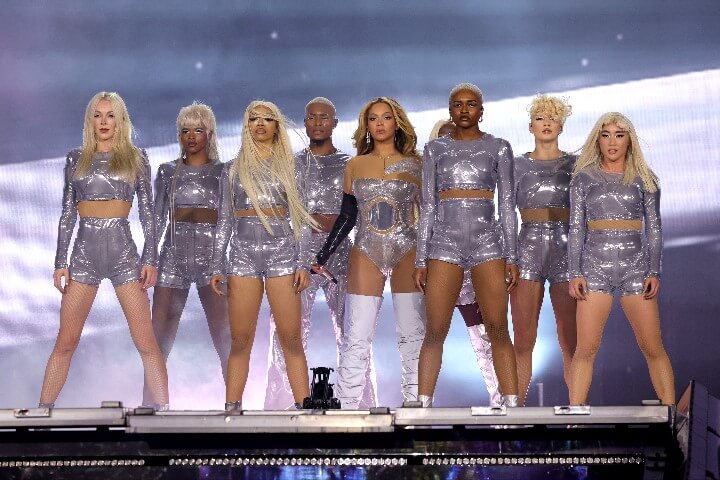 The Renaissance World Tour, projected to gross up to $2.4 billion by its conclusion in New Orleans, promises to be an unforgettable experience for fans around the globe. Beyoncé's ability to captivate and inspire through her music and fashion continues to solidify her status as an icon of our time. As the tour unfolds, fans eagerly anticipate the surprises and remarkable moments that Beyoncé, the visionary artist, will undoubtedly deliver.
In a world where live entertainment has become increasingly formulaic, Beyoncé's Renaissance World Tour stands as a shining example of artistic innovation and boundary-pushing creativity. It is a tour that transcends mere spectacle, inviting audiences into a world where music, fashion, and social consciousness collide. Beyoncé's renaissance is not just a celebration of her own artistic evolution; it is an invitation for all to embark on a transformative journey of empowerment and self-discovery.
---
Tour Dates of Beyoncé's Renaissance World Tour
Below are the location and dates of the 40 cities in Europe and North America where Beyoncé's Renaissance World Tour will be taking place. To stay up-to-date or search for more info on tour dates and tickets please refer to the official website.
City
Date
STOCKHOLM
05.10 | 05.11
BRUSSELS
05.14
CARDIFF
05.17
EDINBURGH
05.20
SUNDERLAND
05.23
PARIS
05.26
LONDON
05.29 | 05.30 | 06.01
06.03 | 06.04
BARCELONA
06.08
MARSEILLE
06.11
COLOGNE
06.15
AMSTERDAM
06.17 | 06.18
HAMBURG
06.21
FRANKFURT
06.24
WARSAW
06.27 | 06.28
TORONTO
07.08 | 07.09
PHILADELPHIA
07.12
NASHVILLE
07.15
LOUISVILLE
07.17
MINNEAPOLIS
07.20
CHICAGO
07.22 | 07.23
DETROIT
07.26
EAST RUTHERFORD
07.29 | 07.30
BOSTON
08.01
PITTSBURGH
08.03
WASHINGTON DC
08.05 | 08.06
CHARLOTTE
08.09
ATLANTA
08.11 | 08.12 | 08.14
TAMPA
08.16
MIAMI
08.18
ST LOUIS
08.21
PHOENIX
08.24
LAS VEGAS
08.26 | 08.27
SAN FRANCISCO
08.30
INGLEWOOD
09.01 | 09.02 | 09.04
VANCOUVER
09.11
SEATTLE
09.13
KANSAS CITY
09.18
DALLAS
09.21
HOUSTON
09.23 | 09.24
NEW ORLEANS
09.27