Journaling is a transformative practice that holds the key to unlocking your true potential. It is a self-empowering tool that allows you to explore your thoughts, dreams, and desires in a safe and judgment-free space. However, many individuals find themselves overwhelmed by the idea of journaling, unsure of where to begin or how to do it "right." In this article, we will delve into the world of starting a journal for self-improvement, debunk the myths surrounding it, and provide you with practical tips to embark on your own journey.
Let's start by emphasizing that there are no rigid rules when it comes to journaling. Your personal growth journey is just that – personal. While there are guidelines and strategies you can follow, the beauty of journaling lies in its flexibility. It is entirely up to you to determine how you want to journal and what works best for you. There is no "one size fits all" approach; instead, you have the freedom to customize your journaling practice to suit your unique preferences and needs.
If you've ever felt discouraged or unsure about journaling, you're not alone. Many individuals have experienced the frustration of starting a journal only to abandon it due to self-imposed expectations or a lack of guidance. I, too, have encountered these challenges in my own journey. I would eagerly purchase a journal, attempt to write in it, but soon find myself overwhelmed by thoughts of doing it "right" or feeling guilty for not writing consistently. As a result, my journal would end up gathering dust in a forgotten corner of my closet.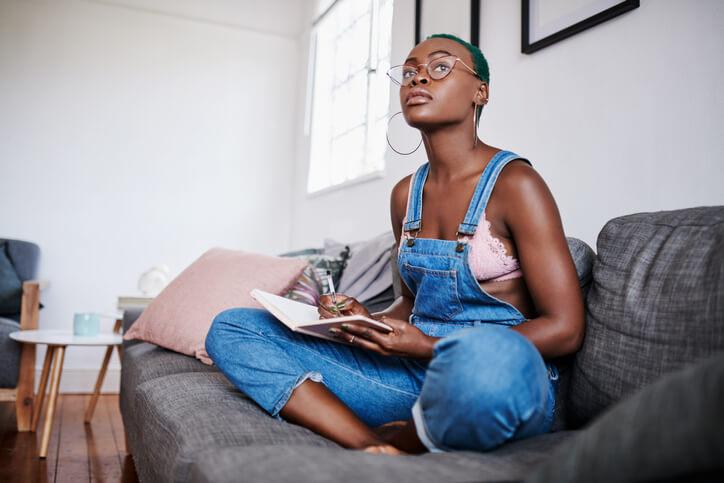 However, once I let go of the notion of doing it perfectly and embraced the true purpose of journaling in my self-care and self-development journey, everything changed. I began to see journaling as a powerful tool for reflection, personal growth, and self-expression. It allowed me to gain a fresh perspective on my life and become the author of my own story.
Now, let's explore why journaling is an essential practice for anyone seeking self-improvement and personal growth. Firstly, journaling has been proven to have significant benefits for mental wellness. It serves as a gateway to self-care, providing a therapeutic outlet for your thoughts and emotions. By putting pen to paper, you create a space for self-reflection and introspection, enabling you to become more aware of your thoughts, beliefs, and behavioral patterns.
Awareness is the foundation of personal growth. It is through self-awareness that you can identify areas of your life that require improvement and initiate positive change. Journaling offers you the opportunity to examine your ups and downs, your dreams and desires, and your gratitude and affirmations. This process elevates you to the role of a scientist observing your own life from a bird's-eye view. It helps you break free from self-limiting thoughts and beliefs, enabling you to consciously reflect and gain a deeper understanding of yourself.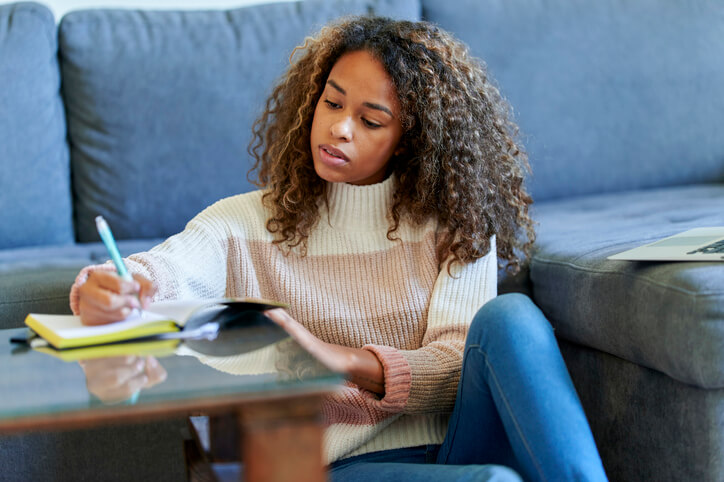 Furthermore, scientific research has shown that writing down your dreams, aspirations, and goals can reprogram your subconscious mind. By articulating your desires on paper, you activate the power of intention and align your conscious and subconscious minds. This alignment empowers you to manifest the life you desire and cultivate new healthy habits that support your growth and well-being.
Practice Journaling for Self-improvement
Write Free from Judgement: Embrace your journal as a sanctuary of authenticity, love, and passion. Let your thoughts flow freely without fear of judgment. Explore your dreams, fears, hopes, and desires. This is your personal space to ignite the light within you.
Be as Creative or Simplistic as You Like: Customize your journal to reflect your unique personality. Whether you're a crafter who enjoys cutting out magazine photos and pasting them in, a minimalist who prefers clean lines and simplicity, or a free spirit who mixes and matches, make it yours. Let your creativity flourish and have fun with it.
Sprinkle Gratitude throughout Your Journal: Take moments to express gratitude for the blessings in your life. When you feel thankful, write it down. Infusing your journal with gratitude fosters a positive mindset and shifts your focus from scarcity to abundance.
Include Affirmations, Mantras, and Positive Quotes: Capture words that resonate with your soul. Write down affirmations, mantras, and quotes that inspire and motivate you. Make them visually appealing on the page. When you revisit your journal, these words will serve as powerful reminders of your journey and aspirations.
Date Your Entries: This simple step is often overlooked but is crucial for self-reflection. By dating your entries, you can track your progress over time and gain valuable insights into your personal growth.
Write When Inspired or Intuitively Prompted: Journaling should never feel like a chore. Instead, let your pen flow when you feel inspired or intuitively nudged to write. Don't stress over the frequency—write whenever the energy calls for it. This approach ensures that journaling remains a passionate and authentic practice for you.
Embrace Self-Reflection: Your journal is a sacred space for self-reflection. Use it as an opportunity to explore your desires, evaluate self-limiting beliefs, and identify patterns that may be holding you back. By becoming the scientist of your own life, you gain clarity on your aspirations and uncover the steps needed to realize them. Your journal can also serve as a grounding strategy during challenging times, realigning you with your purpose.
Choose a Journal that Sparks Joy: While not a necessity, investing in a journal that resonates with you can significantly enhance your journaling experience. Select one that evokes happiness and excitement whenever you open its pages. Treat yourself to a beautiful journal that you'll cherish as a sacred dream book.
Tips on Journaling for Personal Growth
Now that you have the foundational knowledge and practical tips for journaling, let's explore how you can use this transformative practice to envision the year you want. Envisioning involves reflecting on your current life and imagining your ideal future. By writing down your thoughts, goals, and aspirations, you make them more tangible and increase the likelihood of manifesting them.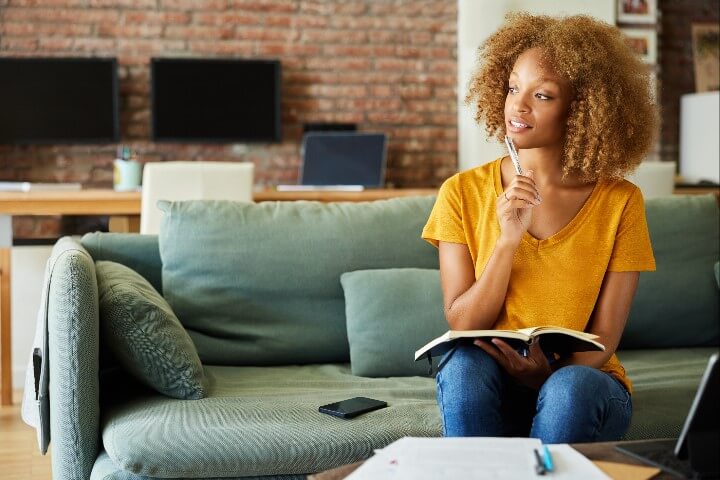 To help you get started with envisioning the year you want, here are some journal prompts:
Identify Your Top Priorities: Take a moment to contemplate your top three priorities for the year ahead. These can be personal or professional goals that you aspire to achieve. Consider what areas of your life you want to focus on, whether it's learning a new skill, developing a healthy habit, or starting a business. Write down these priorities to bring clarity to your intentions.
Define Your Year-End Achievements: Envision what you want to accomplish by the end of the year. Set specific milestones or broader aspirations for yourself. It could be earning a promotion, traveling to a new place, deepening your relationships, or feeling more confident in your abilities. Clearly articulate these goals in your journal to establish a clear vision for your future.
Explore Your Desired Emotions: Reflect on how you want to feel at the end of the year. Consider the emotions and mental states you wish to experience, such as joy, contentment, peace, fulfillment, or empowerment. Write about these desired emotions and envision yourself embodying them. This exercise helps you align your goals with the feelings you want to cultivate.
Break Down Goals into Actionable Steps: Take your overarching goals and break them down into smaller, actionable steps. This approach makes them more manageable and allows you to create a roadmap for achieving them. Outline the specific actions you need to take to move closer to your desired outcomes. By breaking down your goals into smaller tasks, you can track your progress and celebrate your achievements along the way.
Establish Progress Measurement Tools: Consider how you will measure your progress throughout the year. This can involve keeping a log of your daily habits, setting up regular check-ins with a mentor or an accountability partner, or using technology to track your achievements. Choose measurement tools that align with your preferences and support your journey towards personal growth.
You can revisit these prompts throughout the year to reflect on your progress, adjust your goals, and realign with your vision. Your journal serves as a personal compass, guiding you towards the life you aspire to live.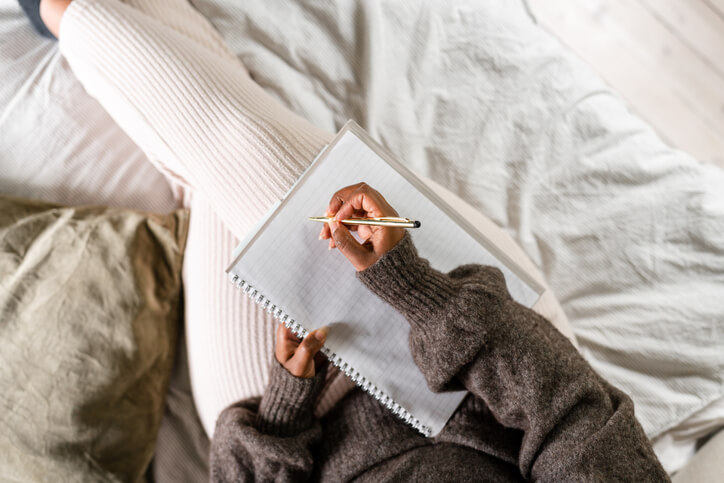 Incorporating journaling into your daily routine can have a profound impact on your self-improvement journey. It provides a space for self-reflection, creative expression, and goal setting. By committing to this practice and embracing the power of your own words, you empower yourself to live a more intentional, fulfilling, and purpose-driven life.
So, take a leap of faith and start journaling today. Embrace the freedom to express yourself authentically, let your creativity soar, and envision the year you want. Your journal will become a cherished companion on your journey of self-improvement and personal growth.