Are you ready to dive into the world of infrared saunas and unlock a whole new realm of wellness? Brace yourself, because these trendy hotspots are revolutionizing the way we detox and rejuvenate our bodies. Say goodbye to the conventional sauna of yesteryear and prepare to embark on an intellectually stimulating journey with the infrared sauna, a cutting-edge technology that will leave you feeling invigorated and exhilarated.
What is an Infrared Sauna
Unlike traditional saunas that rely on hot air to make you sweat, infrared saunas utilize the power of electromagnetic radiation to directly warm your body. This invisible light penetrates deep into your tissues, amplifying the detoxification process and enhancing the soothing effects on your muscles and overall happiness. The best part? Infrared saunas elevate your body temperature by a comfortable 2-3 degrees, delivering all the benefits of a conventional sauna without the intense sweat fest at lower temperatures.
The advantages of infrared saunas are extensive and comparable to those of their traditional counterparts, if not surpassing them. While the debate between the two continues, studies have shown that regular sauna sessions can reduce the risk of cardiovascular episodes by a staggering 23% among middle-aged Finnish men. And that's just the beginning! Additional benefits include improved sleep quality, weight loss, relief from muscle soreness, effective detoxification, ultimate relaxation, pain alleviation, enhanced circulation, lower blood pressure, and even a boost in cognitive function. Notably, saunas have demonstrated potential for individuals with conditions like chronic obstructive pulmonary disease (COPD), chronic fatigue, chronic pain, and addictions, according to an enlightening review in Alternative Medicine Review.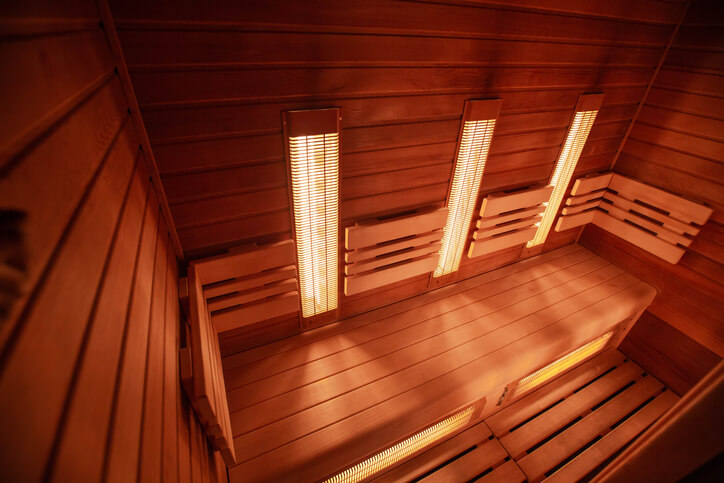 But hold on tight, because the benefits don't stop there! Heat therapy, a key component of the infrared sauna experience, has shown promising results in enhancing cognitive function and reducing the risk of Alzheimer's Disease in the aging brain. Now, that's something to celebrate with unadulterated enthusiasm!
Feeling the itch to try out an infrared sauna for yourself? Before diving headfirst into this extraordinary journey, allow us to equip you with some invaluable tips from industry professionals. These insights will ensure that you extract the utmost benefits from your sauna session, leaving you refreshed, reinvigorated, and eager for more. Many enthusiasts even become so enamored with infrared saunas that they invest in portable versions for their personal homes—a testament to their undeniable allure.
Bid Adieu to Booze
Keep in mind that alcohol and sauna sessions do not mix well. Prioritize your hydration by avoiding excessive alcohol consumption before your visit. Dehydration is the last thing you want to experience while in the sauna, so let's save the happy hour for another occasion, shall we? Trust us; your body will thank you!
Embrace Hydration
Hydration is the key to success when it comes to sauna indulgence. Many individuals make the common mistake of not drinking enough water before, during, and after their sauna session. Treat your time in the sauna as an intense workout and ensure you drink more water than you would on a typical day. To be specific, industry experts recommend consuming a liter of water per session, with a portion of it right before stepping into the warm embrace of the infrared sauna. And here's a golden rule to remember: If you find yourself thirsty when you exit the sauna, you didn't drink enough during your session. Bottoms up!
Find Your Perfect Posture
While lounging luxuriously across the bench is entirely acceptable and oh-so-relaxing, experts suggest sitting up to maximize the benefits of the infrared sauna. By doing so, you allow the heaters to directly target the front and back of your body, ensuring optimal absorption of the infrared heat. Let your body bask in the warmth, absorbing every inch of the invigorating energy.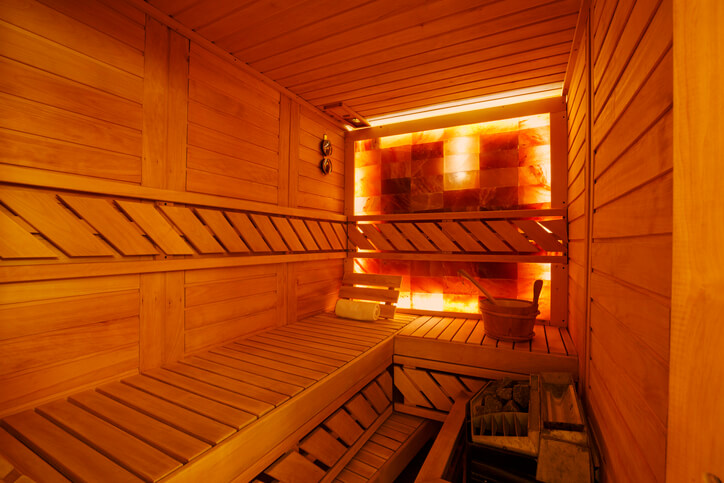 Explore the Spectrum of Colors
Prepare to be captivated by the captivating world of chromotherapy, also known as color therapy. Inside the sauna, you'll notice a mesmerizing chromotherapy guide showcasing an array of different colored lights and their unique benefits. Take a deep breath and resist the temptation to cycle through all 12 hues in a single session. Instead, sit directly under the lights and dedicate 3-5 minutes to each color to truly immerse yourself in their significant therapeutic benefits. Let the colors guide you on an extraordinary journey of wellness and self-discovery.
Unplug and Unwind
Bid farewell to your smartphone during your infrared sauna session. The combination of heat and light can have adverse effects on your device, and trust us, you don't want to compromise its functionality. While some sauna spots provide access to Netflix or live TV, challenge yourself to detach from digital distractions and embrace a moment of complete detoxification—both physically and mentally. Meditate, unwind, or simply revel in the blissful solitude. The choice is yours, and the benefits are boundless.
Allow Yourself to Cool Down
As your sauna session draws to a close, remember to rise slowly and be mindful of any lightheadedness that may arise. If you have high blood pressure or heart conditions, consult your physician before embarking on any sauna treatments. When scheduling your session, allocate enough time for a gradual cool-down period. Embrace the refreshing experience of a 5- to 15-minute cooldown and indulge in a revitalizing cold shower. This final step washes away the impurities released through sweat, ensuring your skin remains radiant and rejuvenated. It also serves as a gentle transition back to your daily routine, preserving the serenity and relaxation achieved during your sauna session.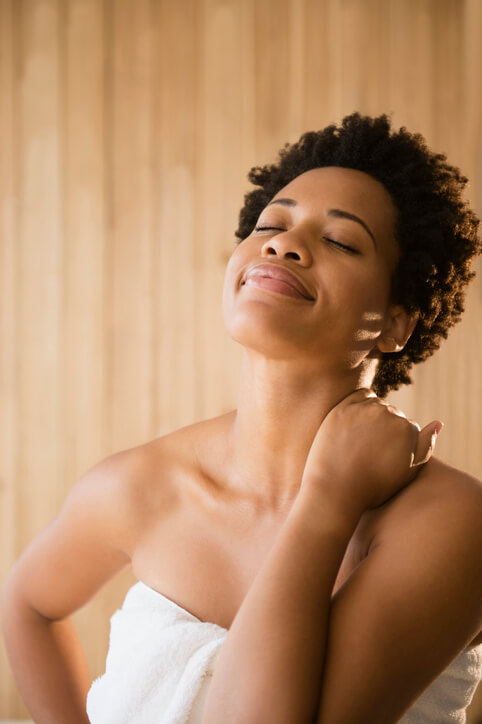 Dress Comfortably for the Afterglow
During your sauna session, wear whatever makes you feel most at ease. Whether it's a bathing suit, a cozy towel, or even your birthday suit in a private setting—embrace the freedom of choice. However, once the session concludes, opt for loose-fitting, breathable attire that allows your body to continue its natural detoxification process. Be prepared for a lingering sweat effect, so bid farewell to tight jeans and compression leggings. Instead, reach for wide-leg yoga pants, a soft cotton tee, and a loose sports bra. Wrap yourself in comfort and relish in the post-sauna bliss.
Tailor Your Sessions to Your Needs
The frequency and duration of your sauna sessions depend on your personal preferences, tolerance, and overall well-being. If you're new to the sauna experience, commence with a 10-15 minute session to gauge your body's response. Gradually increase the duration of each session until you reach the recommended maximum of 20-30 minutes. Remember, quality outweighs quantity. Staying in the sauna for extended periods can lead to dehydration, so be mindful of your body's signals. For those grappling with sleep issues, an early evening sauna can work wonders in preparing you for a peaceful night's rest. Alternatively, an early morning visit can invigorate your mind and body, setting the stage for a productive day ahead. Most infrared sauna facilities recommend 3-4 sessions per week, but feel free to tailor your frequency based on your unique circumstances and preferences. Find your perfect sauna rhythm and let the magic unfold.