In the realm of music, artists often surprise us with unexpected shifts in their creative direction. Janelle Monáe, the singer-songwriter-actor-artist extraordinaire, does just that with her fourth album, "The Age of Pleasure." Known for her high-concept, genre-spanning albums, Monáe takes a departure from her previous works and invites us into a world of lusty romance and unadulterated joy.
When Monáe was developing her album, she knew she had to test it in the right environment. So, she hosted parties at Wondaland West, her creative headquarters in Los Angeles. These gatherings served as the perfect backdrop for experiencing her music firsthand. As she explained to Rolling Stone, she wanted to create an album that honored the party experience and made people feel good. The result is "The Age of Pleasure," a half-hour fever dream that transports listeners to a sun-dappled gathering of beautiful individuals with alluring personalities.
At first glance, "The Age of Pleasure" might seem like a departure from Monáe's previous conceptual works. However, beneath the surface, there is an overarching concept that ties the album together. As Monáe declares in her sumptuous boast "Champagne Shit," this album is about embracing the moment and indulging in the pleasures of life. It's a celebration of Monáe's prolific and successful career, where she has excelled in various artistic endeavors, from energetic live performances to captivating film roles and show-stopping fashion choices. With "The Age of Pleasure," Monáe invites us to revel in the same joy she experiences and encourages us to join the party.
Despite its carefree nature, "The Age of Pleasure" is a meticulously crafted album. In its concise 31-ish minutes, Monáe seamlessly blends beats from various genres, weaves snippets of dialogue into the mix, and delivers lyrics focused on feeling good. The collaborations on the album further enhance the sense of community and shared enjoyment. Artists such as Grace Jones, Sister Nancy, and CKay join Monáe, adding their unique voices to the mix. Together, they create a sonic tapestry that encourages listeners to embrace their sensuality and relish in the pleasures of life.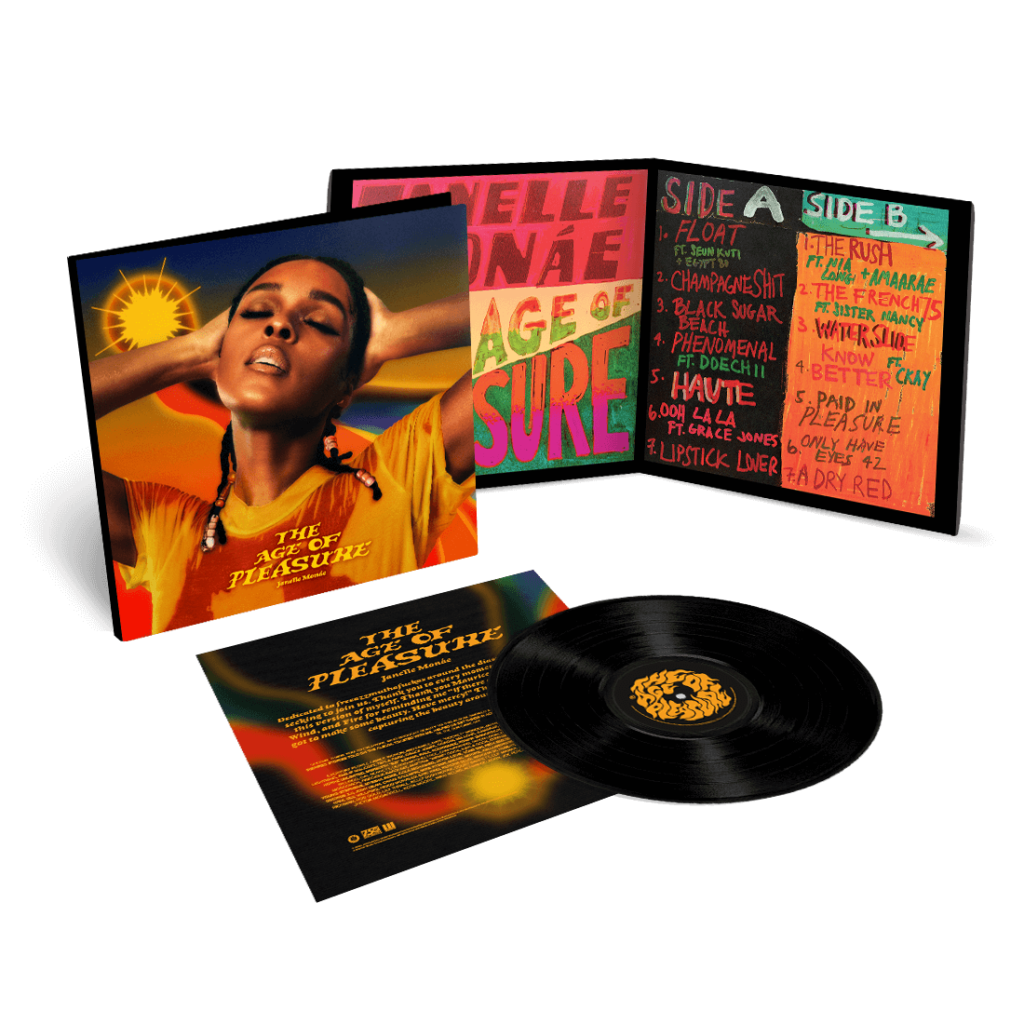 As the album draws to a close with the breezy come-on of "A Dry Red," Monáe leaves us reminiscing about the fleeting nature of pleasure. Much like paradise, pleasure is transient, but that doesn't diminish its significance. Monáe reminds us that indulging in life's pleasures is worth the effort and adds richness to our existence.
"The Age of Pleasure" showcases Monáe's evolution as an artist and her ability to captivate audiences with her infectious enthusiasm. This album is a departure from her previous conceptual narratives, but it doesn't sacrifice depth or meaning. Monáe's Afrofuturistic sound collage immerses us in a world where joy and desire reign supreme. With her Pan-African influences and collaborations with diverse artists, Monáe creates an intellectually stimulating and emotionally resonant experience for her listeners.
In a society often marred by chaos and hardship, Monáe's album offers a welcome respite—a promised land of pleasure and liberation. Through her music, she encourages us to embrace our own desires and revel in the beauty of life. Monáe's message is clear: it's essential to find joy in the present moment and celebrate the pleasures that come our way.
As an artist and an actor, Janelle Monáe has always been a visionary and a storyteller. Her work extends beyond music, as she has contributed to films that center around Black freedom struggles and has crafted allegorical worlds in her concept albums and short stories. With "The Age of Pleasure," Monáe adds another chapter to her artistic journey, taking us on a joyous ride and reminding us of the importance of embracing pleasure and finding solace in the present.
"The Age of Pleasure" is a testament to Janelle Monáe's creative prowess and her ability to captivate audiences with her infectious energy. Through her meticulously crafted album, she invites us to let go of our inhibitions and celebrate the pleasures of life. Monáe's artistry transcends boundaries and creates an intellectually stimulating and emotionally uplifting experience. So, join the party, immerse yourself in the joyous world of "The Age of Pleasure," and let Janelle Monáe's music ignite your spirit.