Duchess of Sussex Meghan Markle accused Vanity Fair of writing a racist headline after she posed for the magazine's cover in 2017, according to details in a new book.
According to royal author Valentine Low, the feature story of Meghan Markle was the first article of her speaking about her new relationship with Prince Harry. Written by journalist Sam Kashner, the headline read: "She's Just Wild About Harry!"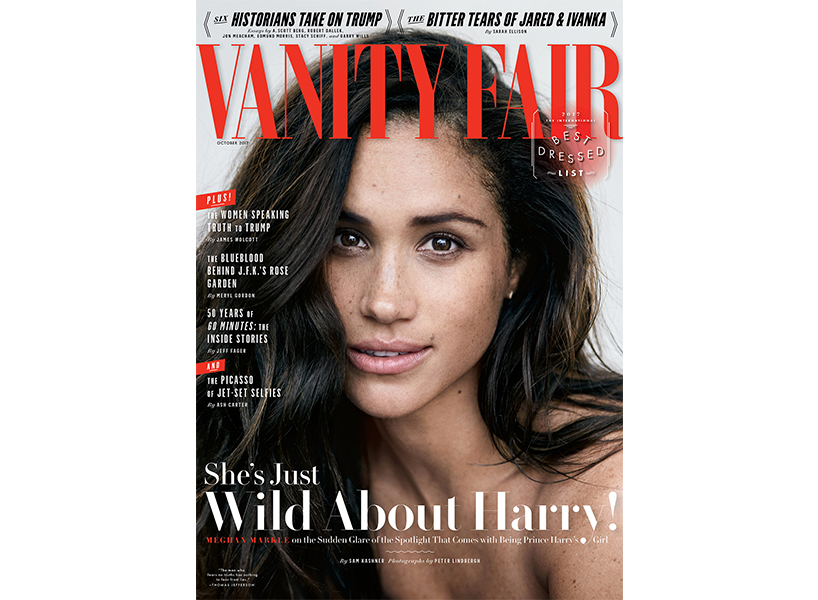 In the book, Courtiers: The Hidden Power Behind the Crown, Low revealed that an anonymous source told him Meghan was upset and felt that the story "was about Harry, not about her," adding that the couple pointed out the headline was similar to the song I'm Just Wild About Harry, which was performed by Judy Garland and Mickey Rooney in blackface in the 1939 film Babes in Arms.
The couple attempted to get Vanity Fair to change the headline, but as it stands, the article still reads "Meghan Markle, Wild About Harry." Meghan and Harry have been open in the past about racist treatment from the British press. In 2017, Harry called out the media of his home country as using "racial undertones" when they covered his then-girlfriend, who would soon become his wife and mother to his two children.
"Some of this has been very public," the statement said. "The smear on the front page of a national newspaper; the racial undertones of comment pieces; and the outright sexism and racism of social media trolls and web article comments."
A source at the royal palace also commented on the racism Meghan received, stating "given what she was going through in the press and what was happening privately, Harry no longer felt it was acceptable for someone in his position to sit quietly. This is happening because of him, not her. The traditional no-comment position no longer felt acceptable to him."
Representatives for Vanity Fair, Sam Kashner, and the Duchess of Sussex have not responded to requested comments from the press.