Pharrell Williams' triumphant debut at Louis Vuitton's men's Paris Fashion Week signals not just a personal achievement for Williams, but a notable landmark for Black creatives, who continue to extend their influence from the spheres of music, sports, and entertainment into the prestigious world of luxury fashion.
Williams' first collection for Louis Vuitton encapsulates the progressive evolution unfolding within the luxury fashion industry—an industry where diversity and representation have historically been marginalized. However, with the rise of visionaries like Williams, this narrative is steadily being reshaped. This suggests an emerging era where talent transcends established barriers and diversity secures its rightful place center stage.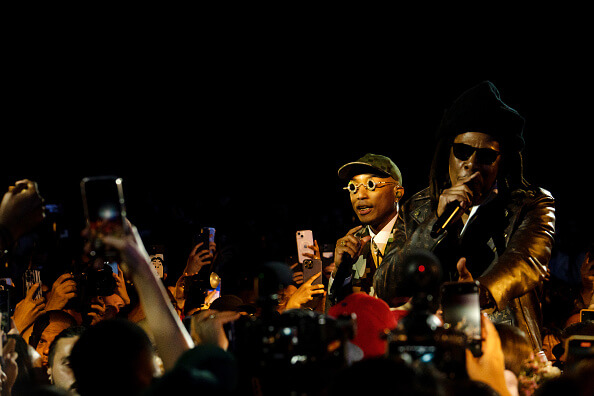 Williams is particularly lauded for his transformative creativity, routinely pushing the envelope and challenging norms. This is manifest in his fresh take on Louis Vuitton's emblematic Damier print, marrying reverence for tradition with a fervent desire for innovation. In his inaugural project as the successor to the late great Virgil Abloh, Williams brings his multifaceted background to the forefront, seamlessly weaving his personal style into the fabric of the brand's rich heritage.
In the heart of Paris, the show unfurled a novel take on simplicity: a model gracing the stage in a neutral, boxy suit jacket with tailored shorts against the backdrop of a live orchestra. As the collection unfolded, it revealed a careful blend of simplicity and complexity, striking a balance between everyday wearability and high fashion.
The Damier print, an iconic feature of the brand, was ingeniously reimagined by Williams, resonating with the daring creativity of his predecessor. This innovative reinterpretation was extended to accessories and bags, a central aspect of the show. Williams creatively employed Louis Vuitton's signature epi leather to design an array of handbags, creating a stunning contrast with the brand's well-known monogram canvas.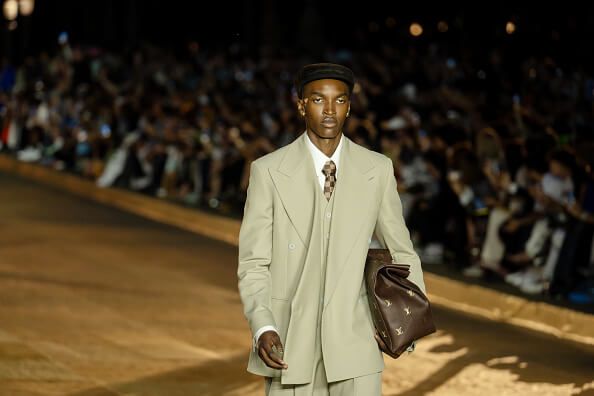 The event transcended mere fashion design and provided a comprehensive spectacle that mesmerized the audience with star power, music, and performance. The front row was brimming with celebrities such as Beyonce, Jay Z, Rihanna, A$AP Rocky, Zendaya, Law Roach, Naomi Campbell, Kelly Rowland, and Kim Kardashian, each there to endorse the new direction the fashion house was embarking on under Williams' innovative leadership.
Driven by themes of love and community, Williams sought to infuse his collection with a sense of immersive experience. A standout design element was the word "Lovers"—a motif paying homage to his home state, Virginia. This theme resonated throughout the collection and suffused the atmosphere of the show.
As the event concluded, a gospel choir in white robes adorned with the collection's ubiquitous pixelated print appeared, adding both a jubilant and solemn note. Their hymns subtly honored Abloh, interweaving an undertone of respect and tribute. The audience, moved by the symbolism, joined in a standing ovation, which persisted as Williams took his second walk alongside his design team.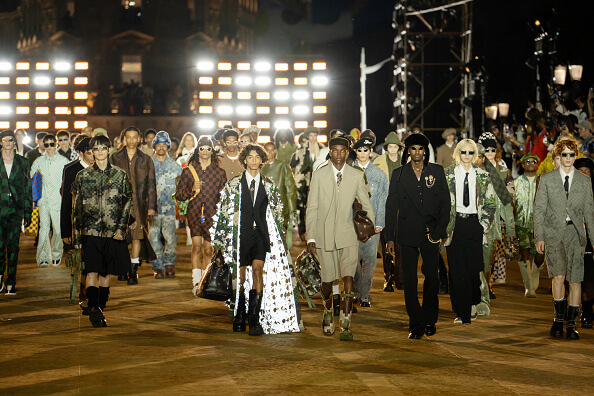 Williams' debut collection marks a transformative period in Louis Vuitton's history. His unique reinterpretation of classic elements, forward-thinking design philosophy, and commitment to consumer-oriented approach foreshadow a promising era for Louis Vuitton. With Williams at the helm, the brand is poised to continue its legacy of creating enthralling and innovative fashion experiences.
At Black Girls Bond, we take pride in championing narratives that challenge and redefine boundaries. The accomplishments of Williams and his trailblazing predecessor, Virgil Abloh, are not only brilliant in their creativity but also serve as an inspirational beacon for the next generation of Black designers. Their audacious talent and transformative influence within the fashion industry illuminate the path for the emergence of diverse voices, reinforcing our mission to celebrate such boundary-breaking achievements in our community.