The MET Gala is known for being one of the most prestigious events in the fashion industry. Celebrities, fashion designers, and influencers from all around the world gather at the Metropolitan Museum of Art to exhibit their best fashion forward moments, striving to make their way into fashion history.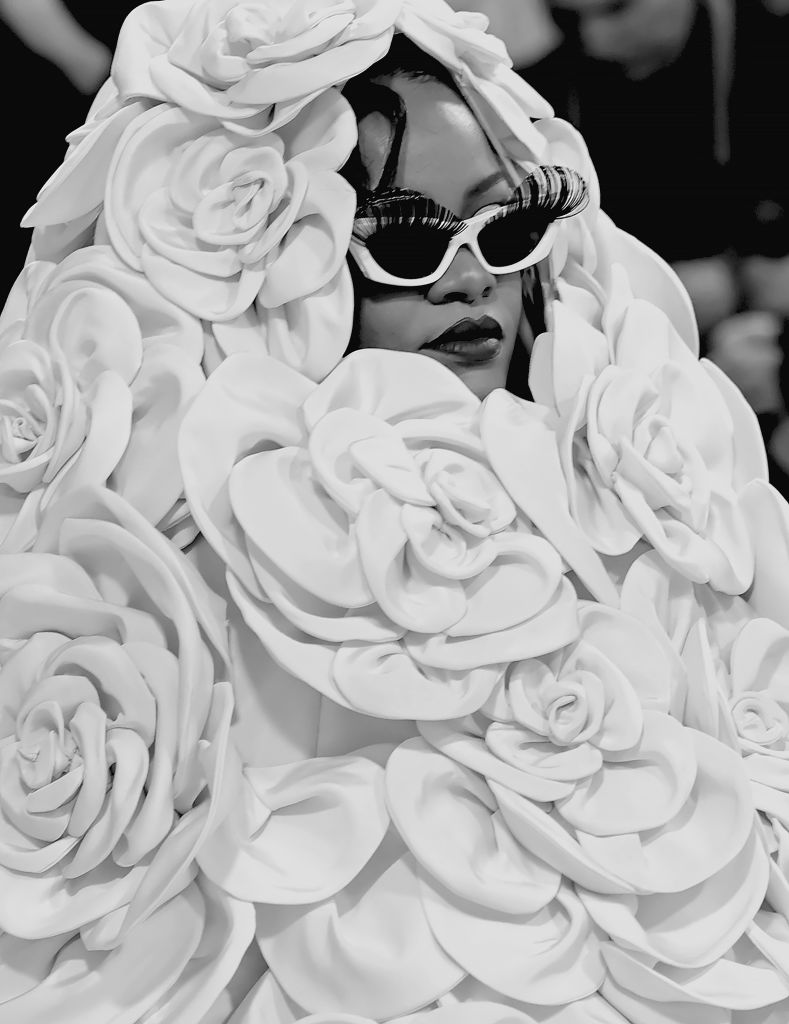 Rihanna is one of the most iconic celebrities to ever walk the red carpet at the MET Gala. She consistently delivers fashion-forward moments that leave everyone in awe with each passing year. From her 2015 yellow gown to her 2018 Pope-inspired outfit, Rihanna is never afraid to push fashion boundaries. Her 2023 MET Gala look was no exception. Rihanna has once again demonstrated why she is the queen of the Met Gala red carpet. With her inimitable maternity style, she closed the 2023 Met Gala celebrating "Karl Lagerfeld: A Line of Beauty" in style, escorted by her boyfriend A$AP Rocky.
As the last celebrities ascended the stairs and the carpet cleared up for the first time in three hours, everyone remained in place, waiting for Rihanna's fashionably late arrival. After over an hour of anticipation, the mogul and singer finally emerged, draped in an all-white Valentino ensemble with a voluminous skirt and a long train.
The bodice and head were encircled by large white flowers, and white, fingerless-gloved hands poked out from the amorphous shape. Completing the ensemble were white sunglasses with large faux lashes protruding off the frames, adding to the singer's ethereal look.
As Rihanna is currently pregnant with her second child, fashion enthusiasts were curious to see how she would incorporate her growing belly into her ensemble. At first, the singer's midsection was completely covered by the flowers, but eventually, she unbuttoned the floral piece, revealing a sleeveless dress adorned with a singular white flower on the chest, and of course, her pregnant stomach on full display.
A$AP Rocky, on the other hand, replicated a look worn by Karl Lagerfeld at his spring/summer 2005 show, with a plaid kilt, black suit jacket, and skinny black tie. His take on the look, created by Gucci, featured a skirt that started off short in the front and finished off with a train that trailed behind him. He added extra belts, steel-toed boots, and one classic Lagerfeld fingerless glove to complete the ensemble.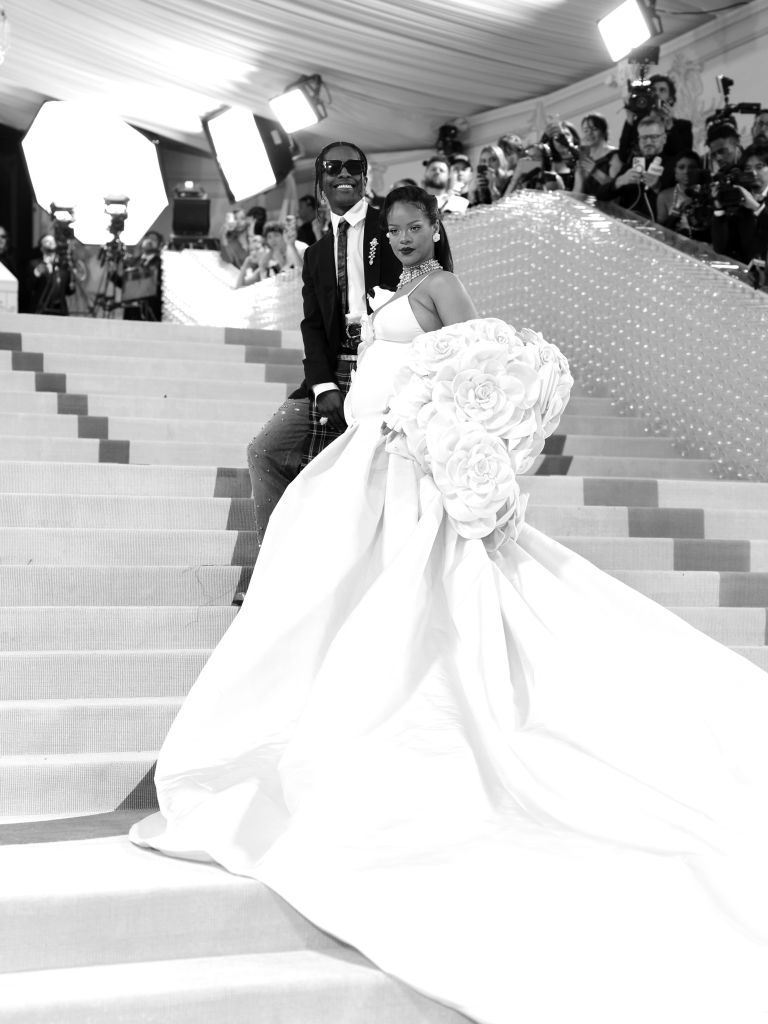 Prior to the event, Rihanna had been teasing her appearance at the Met Gala, stepping out in various vintage looks from Karl Lagerfeld for her many nights out. It was assumed that she would wear a vintage piece from one of Lagerfeld's collections to the Gala, as many other attendees did. However, the singer surprised everyone by wearing a custom piece that paid homage to Lagerfeld in a different way, not only with her dress but also with her extreme tardiness, a trait she shares with the late designer.
Rihanna did not disappoint and once again proved why she is the ultimate Met Gala icon, leaving attendees and the world in awe with her impeccable style and commanding presence.
---
Find out more from the MET Gala 2023 from these articles: