The 2023 ESPYs held at the Dolby Theater in Los Angeles will forever be etched in the memories of sports enthusiasts. With a rich 31-year history, this year's ceremony took a bold step by opting for a hostless format for the first time ever. This change allowed the spotlight to shine solely on the honorees and their exceptional achievements.
The star-studded event featured notable presenters such as Damar Hamlin, Dwyane Wade, Travis Kelce, and Mike Tyson. To further electrify the atmosphere, the audience was treated to spectacular performances by renowned artists Lil Wayne and H.E.R. Notably, H.E.R. delivered a heartfelt tribute to Jim Valvano's iconic ESPYs speech from 30 years ago, commemorating its enduring impact.
Among the night's standout winners, Kansas City Chiefs quarterback Patrick Mahomes took home the crown in two significant categories: Best Athlete in Men's Sports and Best NFL Player. Mahomes' remarkable talent and unrivaled skills have firmly established him as one of the finest athletes of our time. Additionally, the Kansas City Chiefs, led by Mahomes, secured the Best Team award, a testament to their collective efforts and success on the field.
Another deserving recipient was Angel Reese, who walked away with the prestigious title of Best Breakthrough Athlete. Reese, a phenomenal player for LSU Women's Basketball, has captivated fans with her extraordinary skills and unwavering dedication. At such a young age, she has already proven her immense potential for a future filled with accolades and triumphs.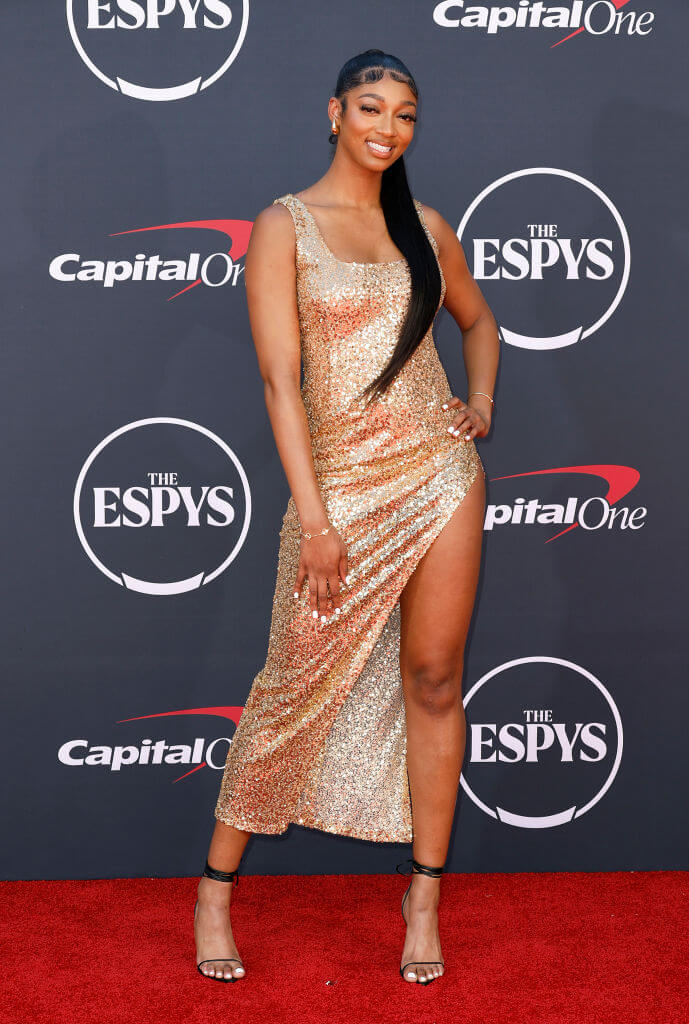 LeBron James, an iconic figure in basketball, left an indelible mark on the 2023 ESPYs as well. James was honored with the Best Record-Breaking Performance award. By surpassing the legendary Kareem Abdul-Jabbar, he etched his name in NBA history by claiming the career scoring record. During his heartfelt acceptance speech, James' wife, Savannah James, expressed her admiration for his unparalleled work ethic, unwavering commitment, and substantial contributions to the game.
In addition to individual achievements, the ESPYs also bestowed special awards to remarkable individuals. The U.S. women's national soccer team received the prestigious Arthur Ashe Award for Courage, a well-deserved recognition of their strength and resilience. The Buffalo Bills training staff was honored with the esteemed Pat Tillman Award for Service, acknowledging their heroic efforts in saving the life of Damar Hamlin earlier this year. The ceremony also celebrated the recipients of the Sports Humanitarian Awards, including the Muhammad Ali Sports Humanitarian Award, the Billie Jean King Youth Leadership Award, and the Stuart Scott ENSPIRE Award, among others.
List of 2023 ESPYS Award Winners
Best Athlete, Men's Sports: Patrick Mahomes, Kansas City Chiefs
Best Athlete, Women's Sports: Mikaela Shiffrin, Ski
Best Breakthrough Athlete: Angel Reese, LSU Women's Basketball
Best Record-Breaking Performance: LeBron James surpasses Kareem Abdul-Jabbar for NBA career scoring record
Best Championship Performance: Lionel Messi, Argentina – World Cup Final
Best Comeback Athlete: Jamal Murray, Denver Nuggets
Best Play: Justin Jefferson with the Catch of the Century
Best Team: Kansas City Chiefs
Best College Athlete, Men's Sports: Caleb Williams, USC Football
Best College Athlete, Women's Sports: Caitlin Clark, Iowa Women's Basketball
Best Athlete with a Disability: Zach Miller, Snowboarding
Best NFL Player: Patrick Mahomes, Kansas City Chiefs
Best MLB Player: Shohei Ohtani, Los Angeles Angels
Best NHL Player: Connor McDavid, Edmonton Oilers
Best NBA Player: Nikola Jokić, Denver Nuggets
Best WNBA Player: A'ja Wilson, Las Vegas Aces
Best Driver: Max Verstappen, F1
Best UFC Fighter: Jon Jones
Best Boxer: Claressa Shields
Best Soccer Player: Lionel Messi, Argentina/PSG
Best Golfer: Scottie Scheffler
Best Tennis Player: Novak Djokovic
The 2023 ESPYs proved to be an extraordinary event, celebrating the accomplishments of athletes from various sports while providing a platform to acknowledge their unwavering dedication and relentless pursuit of excellence. Each award presented served as a testament to the indomitable spirit and exceptional talents displayed by these remarkable individuals.