Actress and activist Yara Shahidi,  sat down with BLACK GIRLS BOND for an exclusive interview  to discuss her historic role as Tinker Bell in the Disney film Peter Pan & Wendy, the alignment between art and social awareness and why she continues to ROCK! 
In an interview with writer Glenda Smiley, Yara talks about  her experience with BLACK GIRLS ROCK!  and how being in a space of people who allow Black women to be their full selves was impactful for her as a 17-year-old and how she continues to reap the benefits of those who have been audacious enough to do so. Yara speaks about her love for her character Tinker Bell and the relatability of having so much to say but not being heard. She also discusses the allusions to social challenges in the film, such as climate change, and how it is tackled in an authentic way by the director David Lowry. 
---
ABOUT PETER PAN & WENDY
"Peter Pan & Wendy," a live-action reimagining of the J.M. Barrie novel and the 1953 animated classic, will begin streaming April 28, 2023, exclusively on Disney+. Check out the teaser trailer for the original movie directed by David Lowery ("The Green Knight," "Pete's Dragon"), and get ready to experience the timeless adventure featuring the beloved characters like never before. "Peter Pan & Wendy" introduces Wendy Darling, a young girl afraid to leave her childhood home behind, who meets Peter Pan, a boy who refuses to grow up. Alongside her brothers and a tiny fairy, Tinker Bell, she travels with Peter to the magical world of Neverland. There, she encounters an evil pirate captain, Captain Hook, and embarks on a thrilling and dangerous adventure that will change her life forever. 
---
Yara Shahidi Q&A with Writer Glenda Smiley
Glenda Smiley
Yara, You have some history with BLACK GIRLS ROCK!. You're a 2017 Young, Gifted, and Black Award recipient. And during the award show, I was in the room. You mentioned what it meant for you then to be in the room. You said, I love this room because it overflows with mentors, peers. It's steeped in inspiration. And within this room, we are allowed to be our full selves. So I wanted to talk to you about that because I found it really delicious and profound when you said it then. And I just wanted to ask what that moment, what that space meant to you then, and what does it mean to you now? 
Yara Shahidi
Yeah. Well, I think especially as a 17-year-old, to be able to be in a space of people who not only in that room but out in their world and in their careers,
 actively actively carve a way for us to be our full selves, for us to unabashedly be ourselves, was really impactful, and I think even more so now. And so being 23, it's been a real pleasure to live in a world where I fully reap the benefits from everyone who was audacious enough as a Black woman to be themselves. And I think even to be able to be Tinker Bell in this space, as the result of coming from an entire artistic legacy of people that have taught me and given me the permission to be able to take on a role like that and feel like, oh, I deserve to be here, and I'm bringing something special to this. But it really does require those rooms and those spaces of affirmation because unfortunately, I think as we all know, I'm preaching to the choir. It's not a given.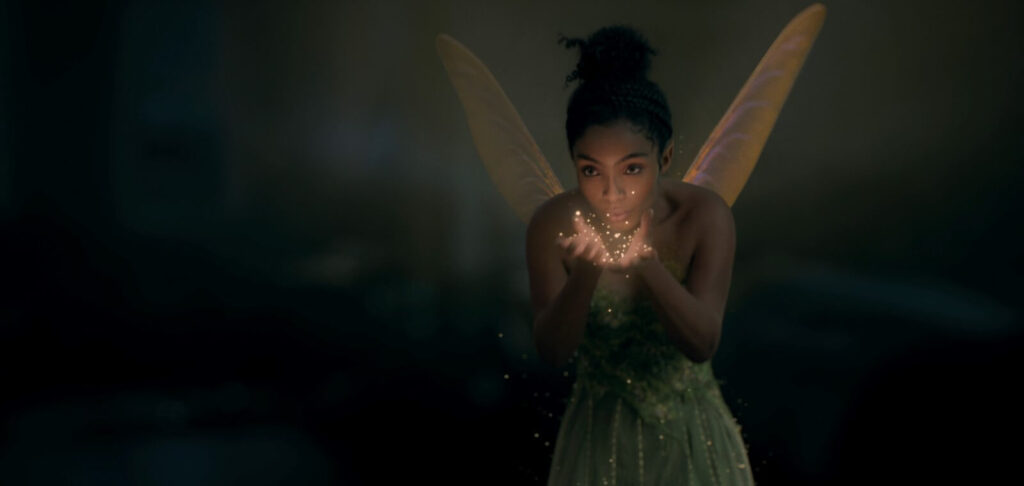 Glenda Smiley
It's not. And it's so beautiful to see you in this role. I'm really excited for the world to be able to see it. What do you love most about your character and your experience of bringing this character to life?
Yara Shahidi
I think the two things that I really enjoyed about playing Tinker Bell are, one, how caring she is. There's definitely more of a friendship that blossomed between her and Wendy. That's quite powerful throughout this film that didn't exist in previous iterations. And so I like the fact that you not only see her caring for Wendy and Peter, but even in funny ways, she's kind of caring a little bit for Huck in terms of pointing Wendy towards understanding the whole story or the whole picture. So I love that layer of empathy. But then I also think there's something that is very relatable for so many people about having so much to say and not being heard. And so for that to be really the core of her character, of course, in a really deliciously fun, larger than life, very expressive kind of way, that was very easy to pull from. I think that was a core emotion that made it easy to tap into those feelings of why she would be so big or why she's trying so hard to get people's attention or why Wendy's presence means so much to her as someone who's been spoken over, as someone who just got credit for having pixie dust and being the reason that Peter or anybody can fly.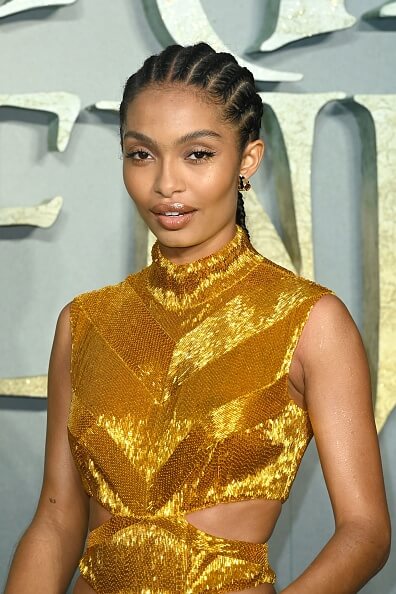 Glenda Smiley
Absolutely. I love that nuance to the character as well. Another thing I love about the film is just the allusions to social challenges that we're facing. And I know in your present life that is actually important to you. You're a huge advocate for social issues. So I would love to hear about the alignment between art and social awareness, particularly in regards to climate change and other social issues that are illuminated in this project.
Yara Shahidi
Yeah, I mean, I think what I love so much about Peter Pan and Wendy is just how honest and authentic it is. And so, yes, it's tackling a lot. And yes, the cast looks different. And yes, the stories are a little different. But I think David Lowry does it in such a true, honest way that you're able to appreciate the storyline and the art. And it isn't until you sit back and think, huh, what is the impact of these landscapes that are now grown over? What are they trying to say when you have these older characters grappling with growing up? And what are they trying to say about these people that are missing their family and chosen family versus blood family and everyone in between? But in the moment and in the theater, you're able to just really enjoy the story that's being told. And I think for me, that's just kind of the double win as an actor. Of course, you want to be a part of something that has impact or meaning. But to be able to first and foremost approach it from an actor or art perspective and say, I just love the story, then is really such a privilege.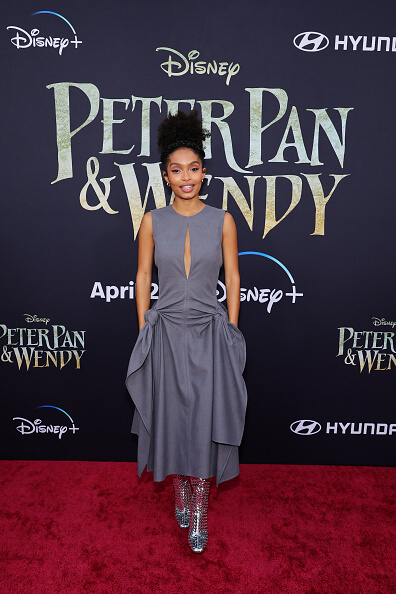 Glenda Smiley
Wonderful. Thank you, Yara. And my last question. Well, first and foremost, congratulations. I know you graduated recently last year and wanted to speak to that a bit. You went to Harvard, studied social studies, I believe, and African-American studies, correct? My concentration name was Black Political Thought Under a Neocolonial Landscape. Yes, ma'am. I love it. I love it. And I have this saying, I work with young people a lot, obviously, I have Black girls rocking in other spaces. And I often tell young people, you can do a lot, not at the same time. So wondering if you could talk about the magnitude of your life path and how you've carved out opportunities to do what you want to do in due time. And what advice would you give to young Black girls who are trying to figure it out, how to figure out how to make their dreams happen in due time?
Yara Shahidi
Of course. Well, I think it's, first of all, taken more than a village, it's taken a small country to make everything happen. So just like we know, especially at Black Girls Rock, the importance of mentorship, the importance of being there for your friends and your peers, too. Having as large of a support network as possible of people you show up for and people that show up for you. I mean, it's been instrumental in my journey, and I wouldn't have been able to get through any of it without actively having people to talk to, actively having people rooting for me. And then in terms of timing, I think it was about figuring out what was most fulfilling. And yeah, it took a lot of work. And there were times where I was doing the most. But there were still decisions being made where, with the exception of playing Tinker Bell, I really hadn't taken on any theatrical role in the four years I was in school. And that was very intentional because I had my obligation and commitment to Grown-ish. But I also had a commitment to myself to be able to make the most of this school experience. And so I think the one thing that sometimes we have to get out of is that it's very easy to be in a scarcity mindset, especially because we're told– and there's a reality to there being so few opportunities. But it feels like if something's being presented to you at a certain moment, you have to take it, versus being like, OK, well, what's the right alignment of what's being presented to me and what's calling me? And so I think it's been the forever conversation, especially going through school, of trying to figure out as an actor what's calling me, but respect what space I needed as a student, too.