When it comes to traveling, we all want to strike the perfect balance between comfort and style. Whether you're embarking on a week-long adventure or a quick weekend getaway, your travel outfit should meet all your needs. And while practicality is key, there's no reason why you can't add a touch of fashion to your airport outfit. Our philosophy is simple: Dress for the journey as much as the destination. With the right airport-ready ensembles and travel accessories, you can turn your coach experience into a first-class affair.
Minimalism & Comfort
Leggings have long been a go-to choice for airport outfits, but it's time to explore alternatives. Enter linen pants—a fresh and comfortable option that will revolutionize your travel wardrobe. With their breathable and lightweight fabric, linen pants provide unrivaled comfort, especially for those long flights. Opt for a head-to-toe neutral look that exudes a relaxed vibe and sets the tone for a laid-back vacation. The beauty of versatile separates is that you can mix and match them effortlessly, such as pairing the pants with a button-down shirt in a complementary hue. By embracing a minimalist approach, you'll be ready to enjoy your tropical destination without the hassle of changing clothes upon arrival.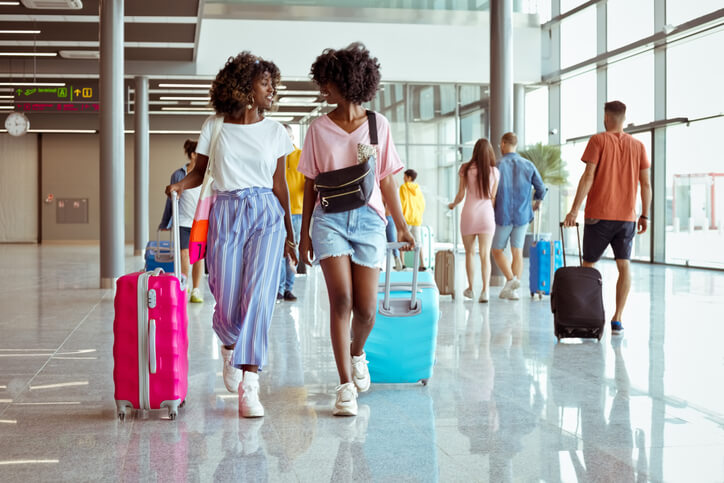 The Inner Maximalist
For the fashion-forward traveler, curating chic vacation outfits is just as important as planning the itinerary. To make a grand entrance at the arrivals terminal, opt for easy-to-wear tops in bold and vibrant prints. These statement pieces require minimal effort but guarantee maximum impact. Consider a vintage-inspired print with an oversized silhouette, like Casablanca, to elevate your airport wardrobe. This versatile piece opens up endless pairing possibilities for all your warm-weather activities. Complete your bold ensemble with oversized sunglasses, a woven-raffia tote, and comfortable flatform sandals. From the airport lounge to your final destination, you'll exude effortless style and confidence.
Athleisure for Ultimate Comfort
We've said it before, and we'll say it again: Comfort is key when it comes to airport outfits. While jeans may offer a stylish look, they may not be the best choice for long flights. Athleisure outfits strike the perfect balance between luxury and laid-back style. Ditch the leggings and explore other comfortable options from renowned brands like Year Of Ours, Beyond Yoga, Off-White, and Versace. These fashion-forward activewear brands bring a fresh perspective with logos, trendy cuts, and vibrant colors. Create the perfect airport athleisure ensemble by pairing high-waisted leggings with a functional bra top and practical sneakers. You'll stay cozy throughout your journey, without compromising on style.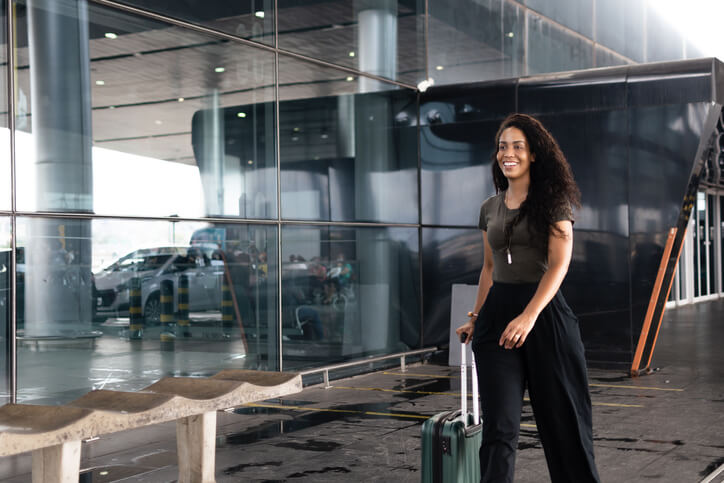 Travel-Friendly Beauty Must-Haves
Crafting the perfect travel outfit goes beyond clothing. Avoid the frustration of having your toiletries confiscated at security by opting for travel-friendly beauty essentials. An all-in-one, pre-made kit is a convenient and hassle-free option. Alternatively, if you prefer a personalized approach, invest in mini versions of your favorite products. Brands like T3, Supergoop!, and Aesop offer travel-sized shampoos, high-tech tools, and fragrances that meet TSA regulations. From a miniature blow dryer to an SPF-packed sunscreen and a refreshing hand mist, these compact essentials are a jet-setting traveler's best friends.
Functional and Stylish Luggage
Traveling in style is an art, and your choice of luggage plays a crucial role. Opt for functional yet fashionable pieces that enhance your overall look. Whether you're a carry-on enthusiast or prefer a weekender bag, brands like Salvatore Ferragamo, MCM, and Saint Laurent offer sophisticated options that cater to your needs. Stand out from the crowd with a matte-blue suitcase from Rimowa, ensuring easy identification on the luggage carousel. Hard shell suitcases with 360-degree wheels and ample pocket compartments provide the perfect balance of durability and convenience. For a fuss-free experience, lightweight duffle bags are ideal for stowing your belongings in overhead compartments.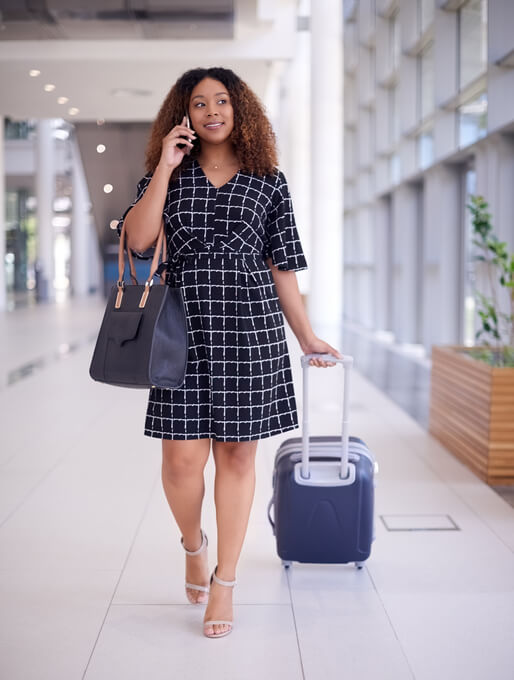 Pack with Confidence
From logo-laden track suits to relaxed linen layers, these outfit ideas will elevate your airport style to new heights. With our curated guide of perfect airport outfits and travel-friendly accessories, we've taken the stress out of packing. Now you can focus on the exciting journey that lies ahead. Remember, comfort and style can coexist, allowing you to embark on your travels with confidence and enthusiasm. So, step up your airport fashion game and enjoy every moment of your travel experience. Bon voyage!