When it comes to stocking up your spice rack, you probably prioritize the essentials like garlic powder, cayenne pepper for that extra kick of heat, turmeric for its anti-inflammatory properties, and of course, salt and pepper. However, from the incredible benefits of cloves, it is another health-boosting ingredient that deserves a place in your kitchen: cloves.
While cloves may not be a common addition to your recipes just yet, their numerous benefits make them worth considering. These flower buds originate from a tropical evergreen tree native to Indonesia and have been used for centuries in various cuisines, with Indian curries being a popular example. Cloves also play a significant role in Ayurveda and traditional Chinese medicine due to their remarkable pain-relieving abilities. But the benefits of cloves extend beyond that—they are rich in antioxidants and provide support for blood sugar regulation, inflammation reduction, and digestive discomfort relief.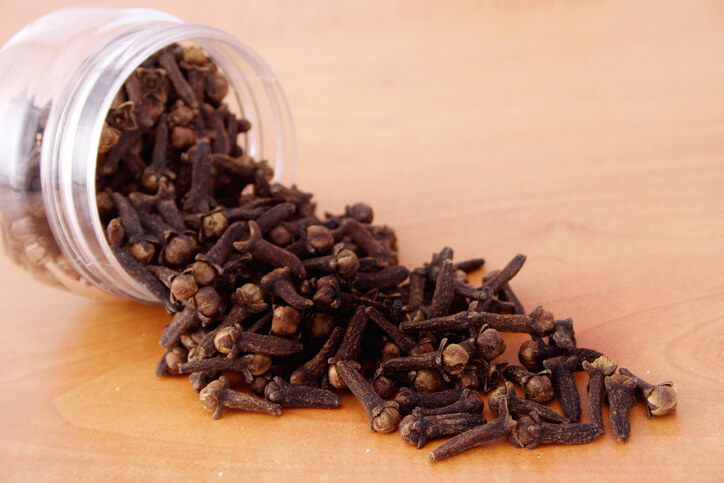 If you're intrigued, you're not alone. Let's explore exactly why you should incorporate cloves into your life.
Regulating Hunger Levels: Cloves possess a unique quality that can help keep your stomach from growling between meals. "For a spice, cloves contain an impressive amount of fiber, which aids in hunger regulation," explains nutritionist Amy Gorin, RDN. Just one teaspoon of cloves provides nearly a gram of fiber.
Maintaining Balanced Blood Sugar Levels: If you're concerned about your blood sugar levels, adding cloves to your meals can be a smart strategy. "Cloves contain manganese, a mineral known for its ability to regulate blood sugar levels," says Gorin. It's a simple and effective solution.
Antibacterial Properties: While chemical-free mouthwash, fruits, and green tea are excellent for oral hygiene, combining them with cloves can enhance their effectiveness. "Preliminary research has shown that clove oil acts as an antibacterial agent," reveals Gorin. In fact, a study found that a mouth rinse containing clove, basil, and tea tree oil helps combat plaque and bacteria. No wonder clove oil is a common ingredient in many toothpaste brands.
Alleviating Tooth Pain: Cloves are renowned for their pain-relieving properties, especially when it comes to toothaches. The compound eugenol present in cloves acts as a natural antiseptic. In fact, a study found that cloves are more effective than other common options for relieving pain, inflammation, wound healing, and infection.
Anti-Inflammatory Effects: Cloves are known for their anti-inflammatory properties. Previous studies have shown that incorporating cloves into your daily diet can have significant benefits, especially for those suffering from arthritis. Using clove oil or black seed oil as a lotion or adding cloves to tea can also help combat inflammation.
Protection Against Aging: Cloves are rich in antioxidants, which play a crucial role in protecting the body against the signs of aging. Celebrity chef, nutritionist, and reiki master Serena Poon explains, "Antioxidant-rich foods contribute to longevity and vitality through their anti-inflammatory properties, epigenetic cues, and mitochondrial activity." Boost your antioxidant intake by sprinkling cloves into smoothies, rice dishes, or desserts.
Cough Suppressant: When you feel a cough coming on, reach for some cloves. "In Ayurvedic medicine, cloves are used to suppress a cough by relaxing the throat muscles," says Poon. You can chew on cloves directly (but don't swallow them) or brew them into a tea and add honey. For added antibacterial and antiviral benefits, consider using manuka honey.
Natural Insect Repellent: If you're a magnet for insects and prone to bug bites, cloves can be your best friend. Mosquitoes, ants, and wasps despise cloves. "Researchers have discovered that a compound called eugenol found in cloves is effective at killing insects and their larvae," reveals Poon. Diluted clove oil in a spray bottle can serve as a natural and effective pest control solution for your home.
Support for Skin Health: Believe it or not, cloves can be used for skincare purposes too. Poon explains that topical applications of clove oil can support skin health due to its anti-inflammatory properties. Additionally, cloves possess antibacterial properties, making them useful for treating acne caused by bacteria. However, it's essential to conduct a patch test on a small area of skin first to check for any adverse reactions.
Relief from Digestive Discomfort: Cloves have long been used in Ayurvedic medicine to alleviate digestive problems. "Cloves are known to relax the stomach lining and provide relief from nausea, gas, and vomiting," says Poon. To experience the benefits, brew a tea with cloves and ginger, then sip and enjoy.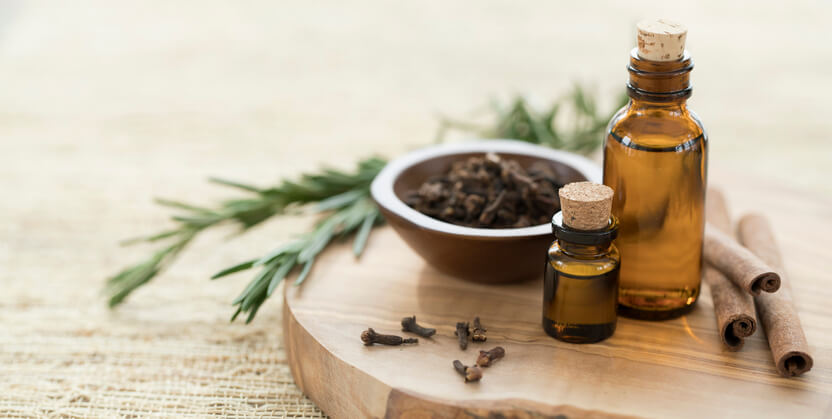 Nutritional Value of Cloves
One tablespoon of ground cloves contains approximately:
18 calories
4 grams of carbohydrates
2.2 grams of fiber
0.15 grams of sugar
0.4 grams of protein
1.3 grams of fat
40.5 mg of calcium
9 mcg of vitamin K
1.9 mg of manganese
0.573 mg of vitamin E
0.081 mg of vitamin B6
6 mcg of folate
The Risks of Cloves
While cloves offer numerous benefits, moderation is key. Consuming excessive amounts of cloves can lead to risks and potential health problems. It's recommended to consult with a healthcare professional before adding cloves or clove oil to your diet in medicinal doses. Certain individuals, such as children, pregnant or breastfeeding women, should avoid consuming clove oil or medicinal doses of cloves due to potential adverse effects like seizures, liver damage, fluid imbalances, and slowed blood clotting. Clove oil applied to the mouth or gums can also cause damage. Cloves may interact negatively with medications like aspirin, ibuprofen, naproxen, and warfarin, so it's crucial to seek medical advice if you plan to consume large amounts of cloves.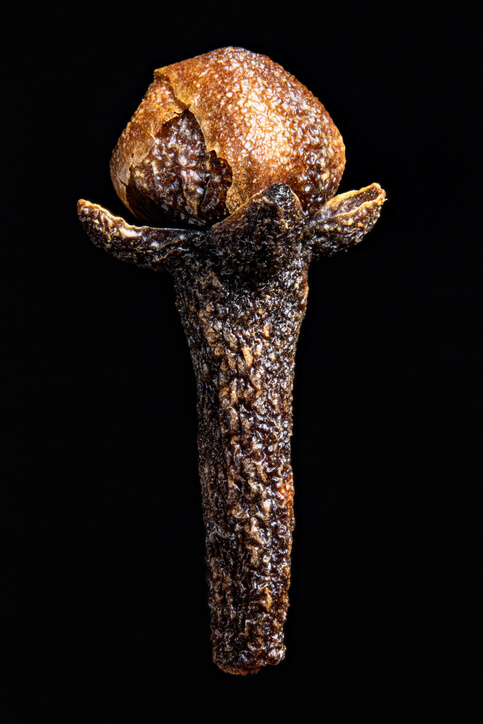 9 Ways to Use Cloves
Now that you're aware of the benefits and risks of cloves, you might be wondering how to incorporate them into your daily life. Here are some creative ideas to get you started:
Add cloves to your chai tea for a flavorful twist.
Utilize the antibacterial properties of cloves by using them as a natural cleaner. Dilute clove essential oil in water and mix it with other pleasant-smelling essential oils to disinfect surfaces in your home.
Enhance the taste of your smoothies by adding cloves. For example, try a pumpkin smoothie with ground cloves and other warming spices like nutmeg.
Freshen the air in your home by creating stovetop potpourri with cloves, cinnamon sticks, and a hint of vanilla.
Infuse your baked goods with the warm, spicy flavor of cloves. They're particularly delightful in muffins.
Create aromatic ornaments, known as pomanders, by inserting cloves into oranges. These release a natural, invigorating scent that can uplift your space and energy.
Elevate your desserts by using clove syrup. Simmer water with sugar and other spices to create a syrup consistency, then drizzle it over ice cream, desserts, or even cocktails.
Embrace the holiday spirit by making mulled wine with cloves and various other spices. Be cautious when cooking wine on your stove, as it requires careful attention.
Prepare Indian biryani, a mixed rice dish that incorporates a blend of spices, including cloves. This flavorful dish is a perfect way to incorporate the health benefits of cloves into your meals.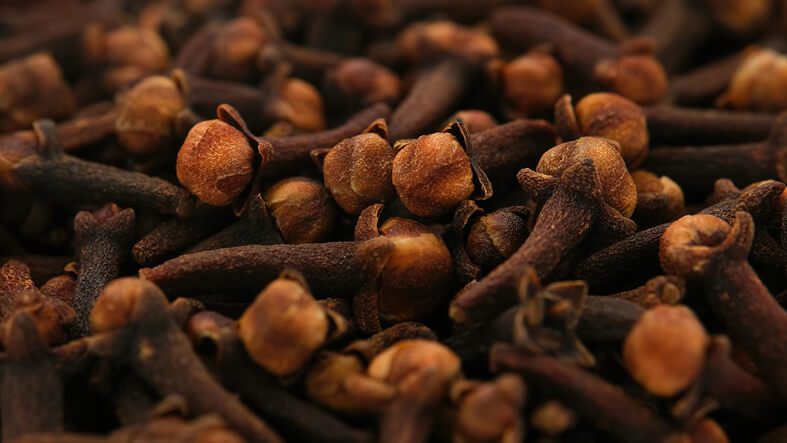 Cloves offer a multitude of benefits that make them a valuable addition to your pantry. With various creative ways to use cloves in your cooking, skincare routine, and home, you'll never tire of reaching for this versatile spice. Embrace the unique advantages of cloves and unlock their potential to enhance your well-being.