Achieving radiant and hydrated skin is a goal shared by many, but it requires more than just superficial efforts. While the hustle and bustle of daily life may distract us from prioritizing skincare, maintaining optimal skin hydration is crucial for both its appearance and overall health.
Properly hydrated skin serves as a natural barrier against external aggressors, safeguarding it from cracking, breaking, and potential damage caused by environmental stressors and pathogens. Neglecting skin hydration can compromise its structure and integrity, making it more vulnerable to these external factors.
Understanding Dehydrated Skin versus Dry Skin
Before diving into the effective ways to hydrate your skin, it's essential to differentiate between dehydrated skin and dry skin. While they may appear similar, they have distinct characteristics and require different approaches for treatment and hydration.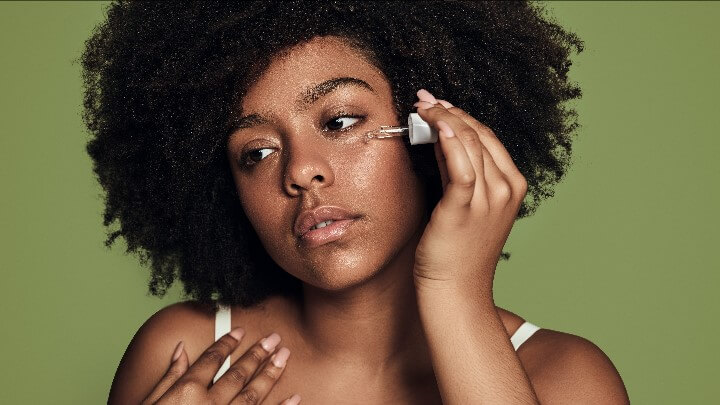 Dry skin is primarily characterized by a reduced number of oil-producing glands on the face and body. On the other hand, dehydrated skin lacks sufficient water, not oil. Pinching dehydrated skin may result in it remaining tented due to the lack of hydration, while dry skin often appears dull, flaky, and rough.
It's important to note that these conditions can coexist, as dry skin lacking oil can compromise the skin barrier function, leading to increased water loss and subsequent dehydration.
Now, let's explore expert strategies to effectively hydrate your skin and maintain its moisture balance:
Optimal Shower Habits
Contrary to popular belief, hot showers and baths can actually deplete your skin's moisture. The hot water causes water to evaporate from the skin's surface, leaving it dehydrated. To retain moisture, opt for shorter, lukewarm showers and baths. Additionally, consider using body washes with hydrating ingredients like hyaluronic acid, which helps draw water into the skin.
Embrace the Power of Humidifiers
Running a humidifier in your bedroom or frequently occupied rooms can significantly increase air humidity. This is particularly crucial during dry winter months when indoor heating tends to rob the air of moisture. By adding moisture to the air, humidifiers help prevent excessive evaporation of water from your skin, keeping it hydrated.
Gentle Cleansing is Key
Harsh cleansers can strip away natural moisturizing factors and oils, compromising the skin's hydration. Instead, opt for gentle cleansers that do not contain chemical exfoliants like alpha hydroxy, salicylic, or glycolic acid. These cleansers will effectively cleanse your skin without disrupting its moisture balance.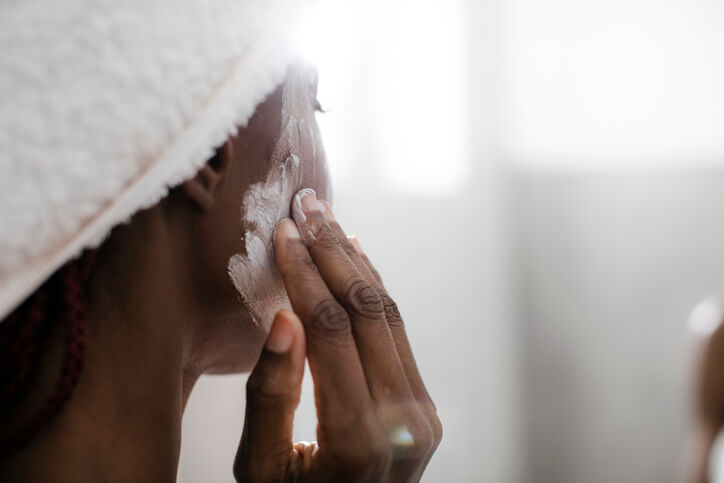 Balance Your Cleansing Routine
Over-cleansing your skin can disrupt its natural microbiome and compromise the moisturizing barrier. Ideally, cleanse your skin twice a day, once in the morning and once before bed. However, if you feel the need to cleanse more frequently, ensure you apply a lightweight moisturizer afterward to replenish any lost hydration.
Maximize Moisture after Cleansing
When cleansing your face, avoid completely drying your skin. Instead, gently pat it dry, leaving it slightly damp before applying your moisturizer. This allows the moisturizer to trap and retain water, effectively hydrating your skin.
The Power of Hydrating Ingredients
Incorporate skincare products containing hydrating ingredients into your skincare routine. Three key types of hydrating ingredients to look for are humectants, emollients, and occlusives.
Humectants like hyaluronic acid and glycerin attract water to the outer layer of the skin, boosting its hydration.
Emollients such as squalane, ceramides, and fatty acids improve the skin's texture and enhance its overall appearance.
Occlusives like petrolatum, beeswax, and mineral oil create a protective layer on the skin, preventing transepidermal water loss.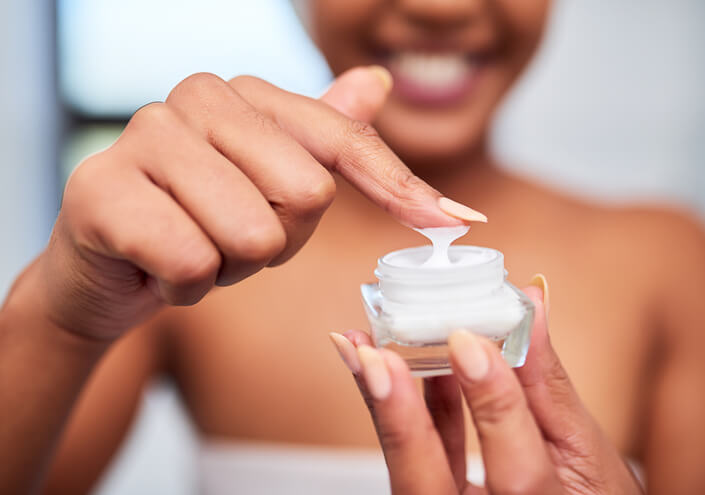 Prioritize Daily Sun Protection
UV rays from the sun can damage the skin barrier, leading to dryness and irritation. Over time, the skin's extracellular matrix, responsible for maintaining hydration, can break down under prolonged sun exposure. Hence, it is crucial to apply broad-spectrum sunscreen daily to protect your skin. Look for products containing zinc oxide and titanium dioxide, which form a physical barrier on the skin's surface.
Intensify Nighttime Hydration
In addition to using a hydrating moisturizer immediately after cleansing, consider switching to a richer, emollient-based moisturizer for your nighttime skincare routine. These moisturizers help support the skin barrier and prevent moisture loss during sleep. Look for ingredients like ceramides, squalane, and petrolatum to provide deep hydration and nourishment.
Exfoliate Wisely
Exfoliation is essential for removing dead skin cells and enhancing the absorption of moisturizers. However, excessive exfoliation can compromise the skin's barrier function and lead to increased dryness and irritation. Limit mechanical exfoliation to once or twice a week using gentle products containing humectant ingredients like glycolic or lactic acid.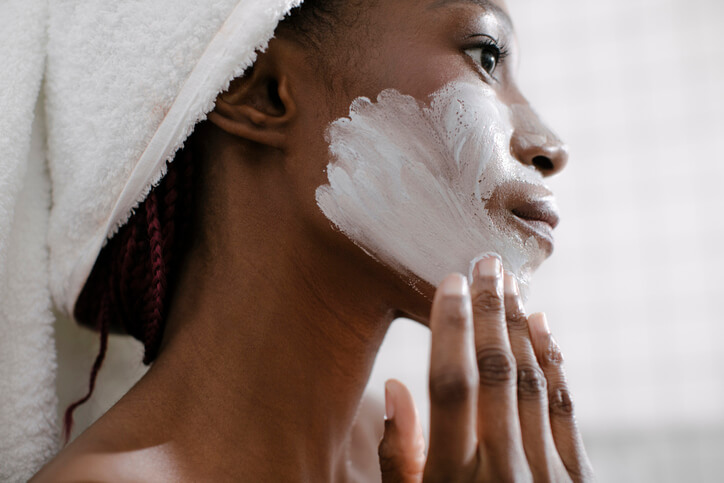 Hydrating Sheet Masks for Intense Moisture Boosts
Incorporating hydrating sheet masks into your skincare routine, ideally once a week, offers a concentrated boost of moisture. Look for masks containing ingredients like hyaluronic acid, aloe vera, green tea extract, and vitamins A, E, and C. These masks provide intense hydration and soothing properties for your skin.
Discover the Benefits of Thermal Water Spray
Thermal water sprays enriched with minerals have been shown to hydrate, decrease skin irritation and redness, and support a healthy skin microbiome. Consider incorporating a thermal water spray into your regimen for a refreshing and hydrating experience.
Optimize Your Makeup for Hydration
Makeup can be more than just a cosmetic cover-up. Choose products infused with hydrating ingredients like hyaluronic acid, glycerin, and squalane. These ingredients help replenish and retain moisture in the skin. Additionally, select makeup products with built-in sunscreen protection for added defense against UV rays.
Hydration Starts from Within: Drink Ample Water
While drinking water is essential for overall health, it alone is not enough to hydrate your skin. Skin hydration is influenced by various factors, including diet, lifestyle, environment, and skincare routine. Therefore, ensure you drink enough water while also making necessary changes in other areas to support skin hydration effectively.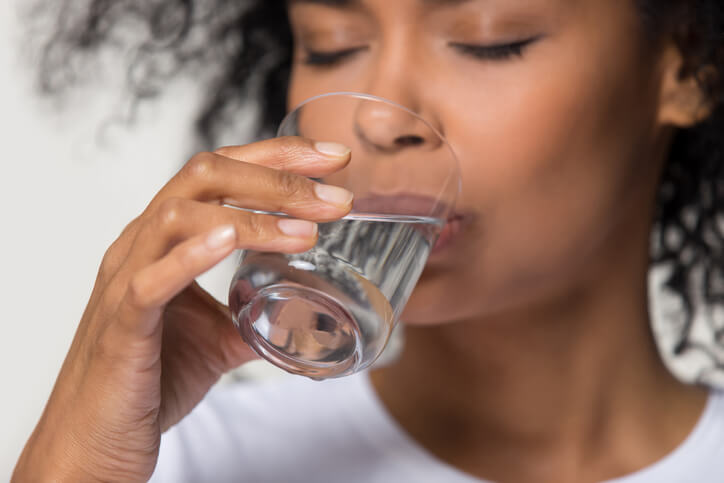 Embrace Water- and Antioxidant-Rich Foods
Consuming fruits and vegetables benefits not only your overall health but also your skin's hydration. Water- and antioxidant-rich foods increase the body's water content, complementing the effects of hydrating moisturizers. Include foods like beets, spinach, and mushrooms in your diet to promote skin suppleness and health.
Steer Clear of Dehydrating Drinks and Foods
Alcohol, excessive coffee consumption, and a diet high in sodium and sugars can contribute to systemic dehydration, which may manifest as dull, sallow, and dehydrated skin. Limit processed foods, caffeine, and alcohol intake, and when indulging, balance them with hydrating foods and plenty of water.
Boost Skin Health with Healthy Fats
Healthy fats are vital for the proper functioning of your skin as an organ and for maintaining its protective barrier. Include omega-3 fatty acids in your diet, which can be found in fatty fish such as salmon and mackerel, as well as in nuts, seeds, and olive oil.
With these strategies, you can effectively nourish and hydrate your skin. Remember that skin hydration is a holistic process, combining proper skincare practices, a balanced diet, and a healthy lifestyle. With consistency and dedication, you can achieve and maintain healthy, hydrated, and radiant skin.