Luck would have it that Cinco de Mayo falls on a Friday this year, so why not unwind after a long week with a nice cool margarita to go with your tacos in honor of Día de los Muertos (Day of the Dead)? We sifted through dozens of recipes across the internet and selected the top five margaritas to make on the 5th of May – we even tried a few and we must say: they're good! We've also incorporated a couple of virgin cocktails for those who prefer to opt for a non-alcoholic treat.
Casamigos Tequila Margarita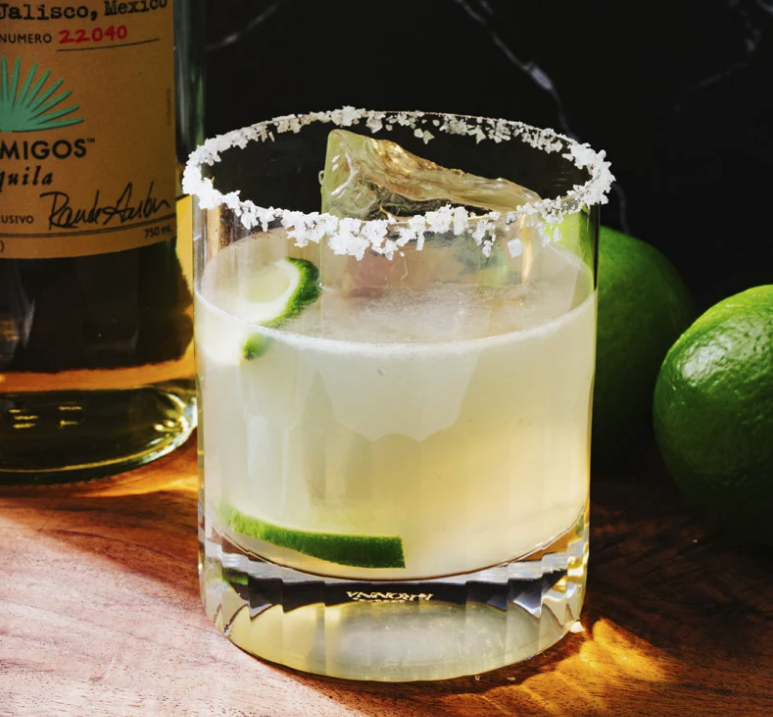 Ingredients
60ml Casamigos Blanco Tequila
30ml Fresh Lime Juice
10ml Fresh Orange Juice
30ml Agave Nectar
30ml Orange Liqueur
Optional: Salt/Sugar/Orange Zest Rim
Method
Combine all ingredients into tin shaker. Add ice, shake vigorously, and strain into rimmed rocks glass. Add fresh ice and garnish with lime wheel through skewer. Roll rim in optional salt/sugar/orange zest mixture. Courtesy of The Drinks Business.
Caliente Kiss Margarita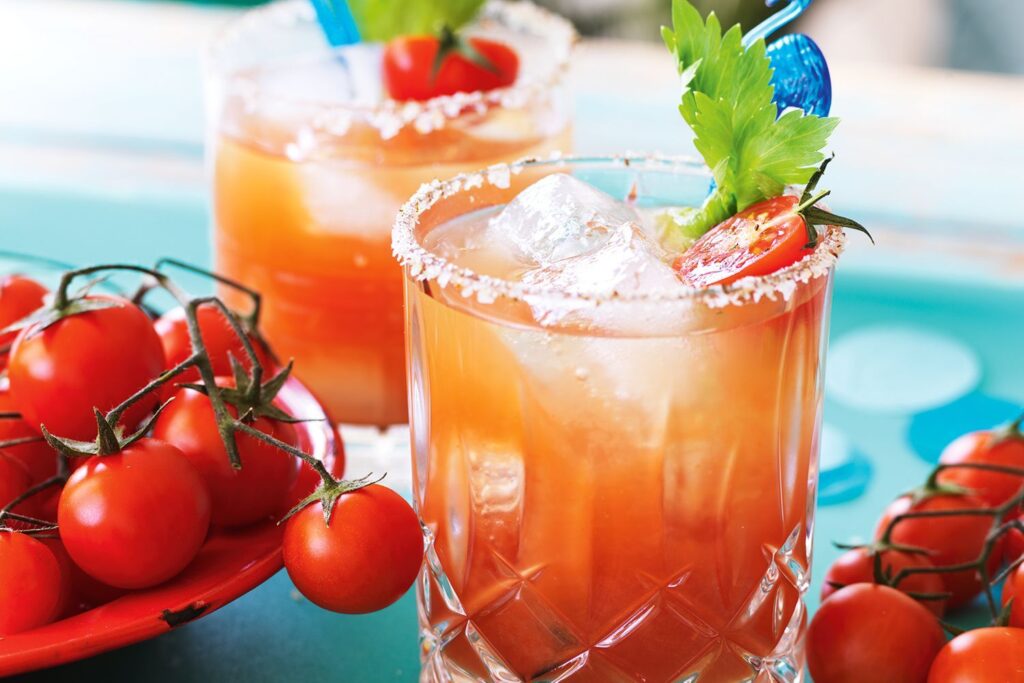 Ingredients
1 part tomato sauce
1 squeeze of Sriracha sauce
1 dash fresh black pepper
1 dash Worcestershire sauce
Dash celery salt
Dash paprika
Dash cumin
Juice 1/2 lemon
1 cucumber slice, for garnish
Method
In a shaker filled with ice, combine all ingredients. Shake well and pour into tall glass over ice. Garnish with cucumber slice. Courtesy of Glamour
Pineapple Jalapeño Margarita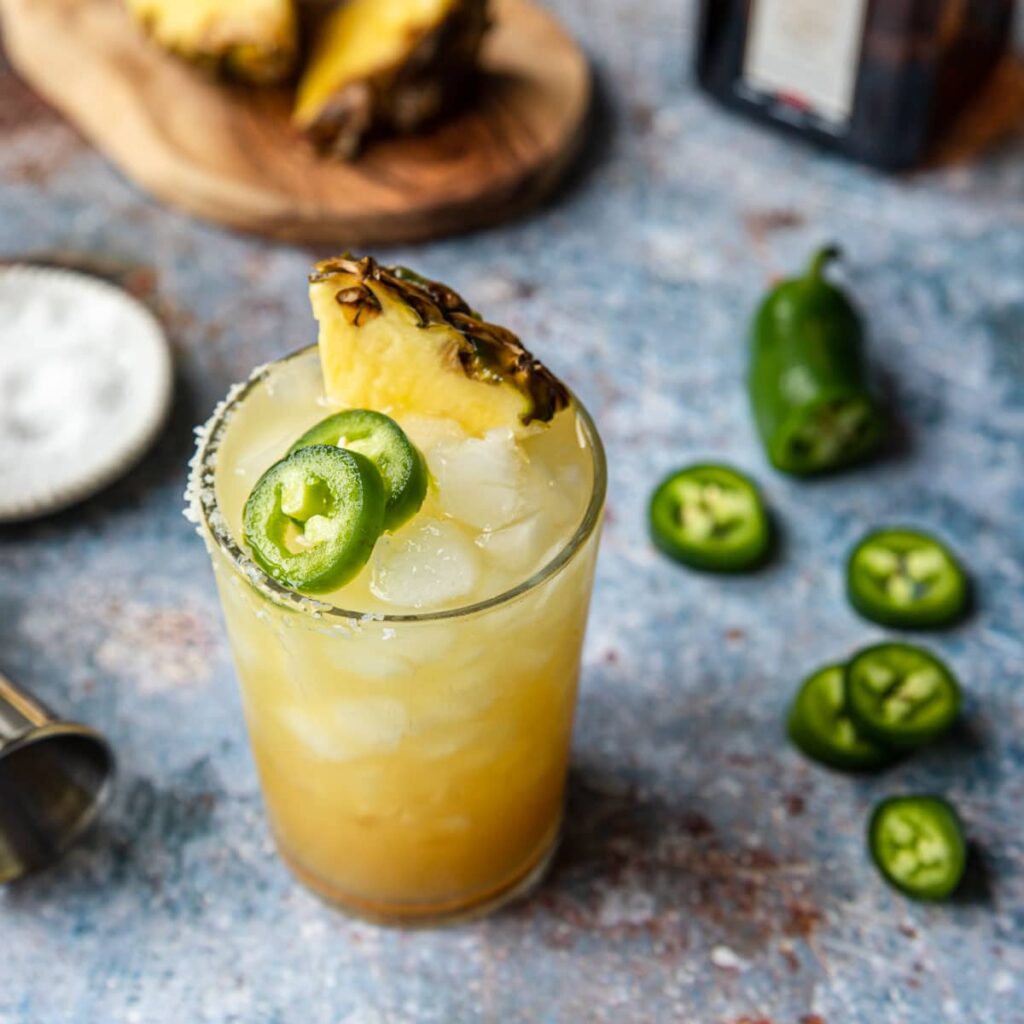 Ingredients
1 Brazilian Lime Margarita Can
1 Pineapple
1 Jalapeño pepper
Coarse salt
Ice
Method
Add coarse salt to a shallow dish. Rub the rim of a glass with a slice of lime, then dip the glass into the dish to coat the rim of the glass with the salt. Add a round slice of Jalapeño pepper and a pineapple chunk to the bottom of a cocktail shaker. Muddle slightly. Add 4 tablespoons of juice from the pineapple into the shaker. Grab a can of Brazilian Lime Margarita, gently invert it, open and pour into the shaker. Add ice to the shaker so that it is 3/4 full. Shake well until chilled (15-20 seconds), then pour the cocktail into a glass filled with ice. Garnish with a wedge of pineapple (skin still on) and a Jalapeño round. Courtesy of Niche Cocktails.
Caribbean Blue Margarita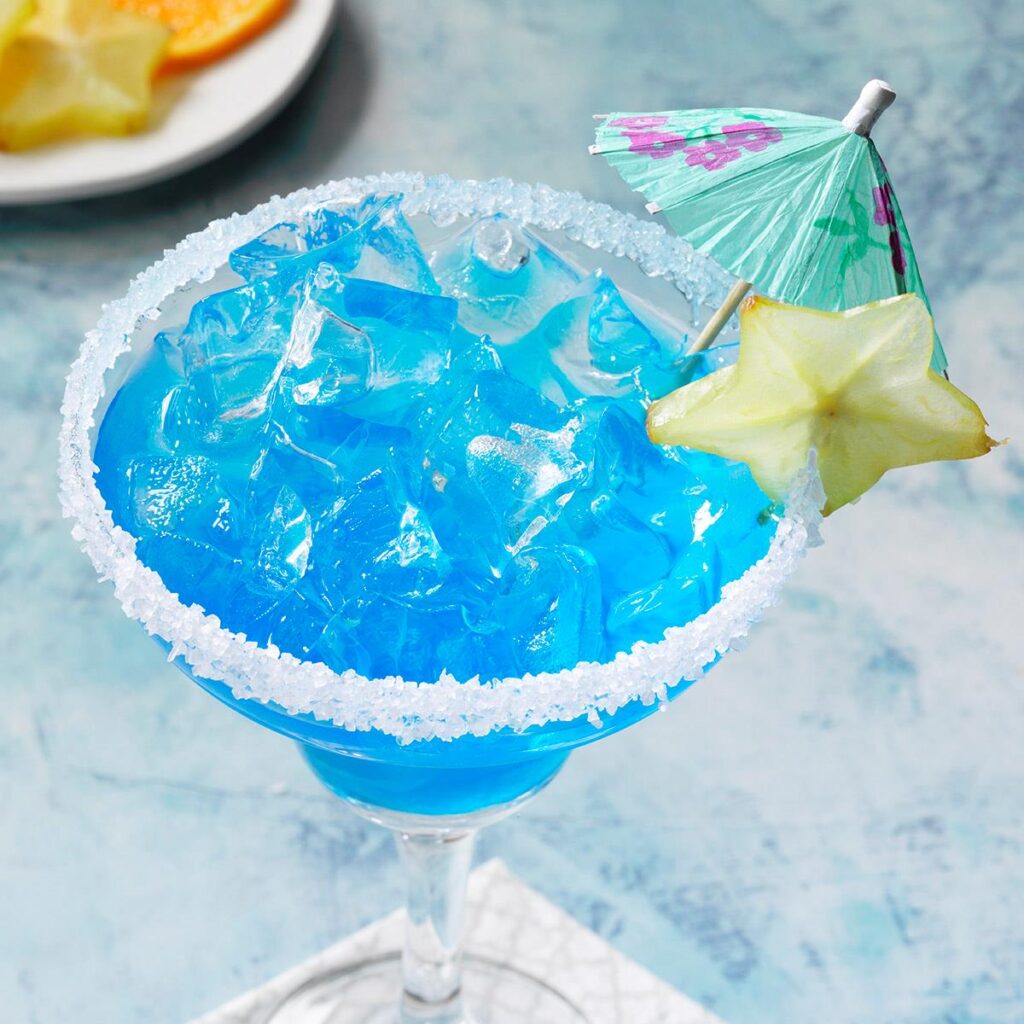 Ingredients
1 lime wedge
Coarse sea salt, optional
Blue food coloring
1/2 ounce freshly-squeezed lime juice
Optional: star fruit slices and orange slices
Method
Moisten rim of 1 cocktail glass with lime wedge. If desired, sprinkle salt on a plate; dip rim in salt. Fill glass with ice. In an empty cocktail shaker, combine tequila, blue curacao and lime juice. Fill with ice; cover and shake until frost forms on the outside of the shaker, 15-20 seconds. Strain into prepared glass. Garnish with lime wedge and, if desired, star fruit and orange slices. Courtesy of Taste of Home.
Frozen Mango-Ritas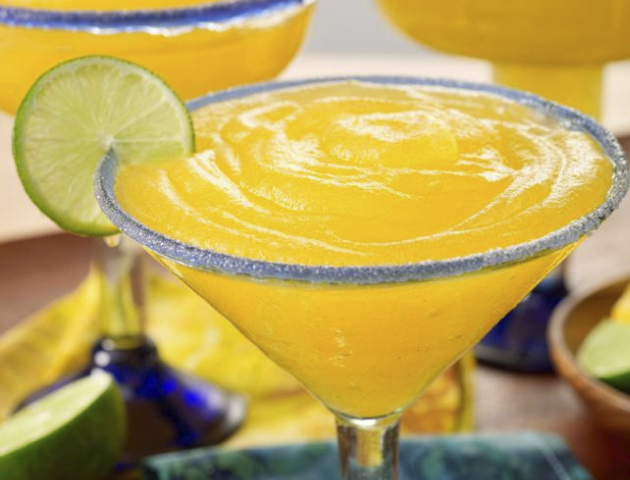 Ingredients
1.5 oz Patrón Reposado
.5 oz Patrón Citrónge Orange
1 oz Apple juice
.5 oz Fresh lime juice
.5 oz Valentina-passion fruit syrup*
*Fresh chili pepper for garnish
Method
Combine ingredients in a cocktail shaker with ice and shake to chill. Strain into a chilled margarita glass. Garnish with a small chili pepper. *Valentina-passion fruit syrup: Combine two parts passion fruit syrup to one part Valentina hot sauce and stir to combine. Store refrigerated. Courtesy of The Drinks Business.